Roblox: DeepWoken - The Loop
Play Sound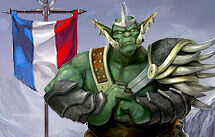 RuneScape France is the French version of RuneScape, in which all game content is translated into French. This version of RuneScape was announced on 1 December 2008 and released on 10 December 2008, though it was not announced to have been released until 11 December 2008.[1]. Jagex had announced on 1 December that it would be released some time that month[2].
It allows players who speak French to interact with the game and other players more easily, and is useful to residents of France and other French-speaking parts of the world, as well as people who may be learning the language and wish to practice.
French game servers
There are two servers in RuneScape France.
| Server | Members? | |
| --- | --- | --- |
| 55 | No | Yes |
| 118 | Yes | Yes |
RuneScape France originally had worlds 63, 128, 150, and 163, though 63 and 163 were no longer available as of 13 December 2008. World 128 became World 55 and World 150 became World 118.
Spelling or grammar mistakes
No major spelling or grammar translations mistakes have been brought to Jagex's attention. Some people have been able to bypass the chat filter of some of the words in English RuneScape in the French Worlds.
Glitches
The tree spirit random event attacked without any affect by Defence. This random event was removed on 25 February 2009.
See also
References
^ RuneScape France. RuneScape News List. Jagex. 2008-12-11. "Bonjour! We're pleased to announce that we have just released the RuneScape game and website in its third language: French."

*

^ Behind the Scenes – December (2008). RuneScape News List. Jagex. 2008-12-01. "You might stumble across some new words if you're planning to try out any of the French Servers, planned for launch in December. Completely translated into French, we hope that many of you will be finding a new home here, or even just popping in to see what everything's like en français."

*
RuneScape

| | |
| --- | --- |
| Instalments | |
| Languages | French |
| Miscellaneous | |

Spinoffs