Roblox: DeepWoken - The Loop
Play Sound
This article is about the mobile RuneScape client. For the companion app, see
RuneScape Companion
.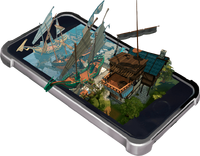 RuneScape Mobile is an upcoming mobile client for RuneScape and Old School RuneScape (known as Old School Mobile) announced on 17 July 2017. There will be two separate apps for the games,[1] and the apps will be available for free on iOS and Android.[2]
There is currently no scheduled release date for the mobile app for the main version of RuneScape. The app for Old School RuneScape was originally slated for release in Winter 2017, but this has since been postponed to sometime in 2018. It is easier to port Old School RuneScape to mobile devices due to it using a smaller engine.[3]
Features
RuneScape Mobile will allow players to play both RuneScape and Old School RuneScape on their mobile devices. It will work cross-platform with players on PC, and players will be able to play using the same characters as they do on their desktop clients.[4]
Microtransactions will be accessible in the same way that they are on PC, and no microtransactions will be available for Old School RuneScape. Players will be able to access Solomon's General Store and purchase Treasure Hunter keys or bonds.[3]
The apps will have suspend and resume support which will keep players logged in but idle (for as long as they would be in the desktop version) if the player switches to another app, e.g to take a phone call. Additionally, audio that is playing from other apps will continue to play while the game is open, though the player can choose to listen to the in-game music instead.[3]
Mod Pi is working on a "tab targetting" system which will allow users to cycle through nearby monsters to attack, rather than having to select a monster manually.[5]
History
Major development on a mobile client for RuneScape began sometime between March and April 2017. Jagex decided that it was the right time to start work on a mobile client because of player lifestyle changes such as having to go to work or to college. They note that they are trying to "make the games as accessible as possible" and appeal to new players.[3]
In May 2017, Jagex invited a number of content creators and streamers to their headquarters in Cambridge, UK. During this time, they had the opportunity to test an early build of RuneScape Mobile and their response to it was positive.[3] In September, attendees of RuneFest 2017 had the opportunity to test the mobile client during the event.[6]
A closed technical test for RuneScape Mobile began on 24 October 2017 and lasted until 30 October.[7] Invites were sent to a small number of players through email and the Message Centre.[8] Work in progress images of different interfaces from RuneScape Mobile were shown on 7 November:[9]
The closed beta for Old School Mobile was expected to start in late 2017 but was postponed. A technical beta involving 2,000 players ran from 2 February to 8 February 2018.[10] On 10 April, another beta for Old School Mobile began for 5,431 players using iOS, lasting until 19 April.[11] An open beta test for Android was released on 5 July, with the Android mobile app being available to download on the Google Play store. Although free to download, only players with a members subscription were able to sign in and play. An open beta for iOS is expected to release later in Summer 2018.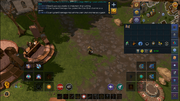 A closed beta for RuneScape Mobile on iOS began on 3 May 2018, with invites being sent out to a selected group of people who registered their interest.[12] The results of the beta were reported in a newspost on 4 July. A closed playtest for Android began on 2 August.[13]
References
Engine
Products
Mobile
Performance
Graphics
Servers