Runecrafting is a free-to-play skill that allows players to craft their own runes for magic spells. However, to use this skill, players must first complete the quest Rune Mysteries.Runecrafting is a fairly hard skill to raise but is a little bit easier if you utilize teleportation shortcuts. Runecrafting is currently the only free-to-play skill without 2 million accounts ranked on the Hiscores. It is also the only free-to-play skill, along with Crafting, that is not mentioned on Tutorial Island. The current minimum requirement to be ranked (at approximately rank 1,175,000) on the hiscores for Runecrafting is level 30.
Essence
To craft runes, players need blank rune stones, known as "essence". Essence is also commonly referred to as "ess". There are two types of essence: pure essence and rune essence (often called "normal essence" to distinguish it from pure.)
Rune essence
Normal rune essence is used to make elemental runes, mind runes, and body runes. This is the only type of essence that free players can obtain by mining at level 1.
Pure essence
Pure essence is used in the creation of all runes. It is the only kind of essence that players can make into cosmic runes, chaos runes, astral runes, nature runes, law runes, death runes and blood runes. Members with a Mining level of 30 or above will automatically mine pure essence when mining from an essence mine in a members' world.
Obtaining rune essence
Rune essence mine
Both rune essence and pure essence are located in the same network of massive underground mines, known as the rune essence mine.
To access these mines, players need to talk to certain non-player characters (NPCs) who can teleport them to the mines. A player can either right-click on the NPC and select the 'teleport' option or talk to the NPC and ask to be teleported.
Free-to-play
Aubury, a wizard in Aubury's Rune Shop in Varrock, immediately south of the east bank. This is the NPC that almost all players use, as he is the shortest walk away from a bank in free-to-play worlds.
Sedridor, a wizard located in the basement of the Wizards' Tower, south of Draynor Village. The nearest bank from him is in the bank in Draynor Village, north of the tower.
Members
Monster drops
The Great Orb Project
Essence is given throughout The Great Orb Project, depending on the player's performance, and can be purchased with runecrafting guild tokens as a reward after completion.
Talismans
Each talisman has a name that indicates what kind of rune a player can make with it. For example, to make air runes, a player needs to find an air talisman. Note that Runecrafting using the Abyss does not require talismans to access the altars, only the skill levels needed to craft the runes.
Players can buy all talismans (except the omni, elemental, blood and death talismans) in the Runecrafting Guild from Wizard Elriss for 50 Runecrafting guild tokens (awarded upon finishing a game of The Great Orb Project).
Talisman
Members?
GE price
Dropped by
Notes
File:Air Talisman.PNG Air talisman
No

|| Men, Imps, Goblins, Wizards, Air Wizards. || Freely given by Duke Horacio at the start of Rune Mysteries.
File:Mind Talisman.PNG Mind talisman
No

|| Imps, Wizards, Dark Wizards.
File:Water Talisman.PNG Water talisman
No

|| Wizards, Dark Wizards, Water Wizards.
File:Earth Talisman.PNG Earth talisman
No

|| Men, Women, Wizards, Dark Wizards, Al-Kharid Warriors, Earth Wizards.
File:Fire Talisman.PNG Fire talisman
No

|| Guards, Wizards, Skeletons with no weapons, Dark Wizards.
File:Body Talisman.PNG Body talisman
No

|| Guards, Wizards, Hill Giants, Dark Wizards.
File:Cosmic Talisman.PNG Cosmic talisman
Yes

|| Abyssal Demons, Abyssal Guardians, Abyssal Walkers, Giant Rock Crabs, Rock Crabs, Ice Giants, Lesser Demons, Otherworldly Beings
File:Chaos Talisman.PNG Chaos talisman
Yes

|| Hobgoblins, Skeletons, Ice Warriors, Shadow Warriors, Lesser Demons, Hill Giants, Fire Giants.
File:Nature Talisman.PNG Nature talisman
Yes

Script error

Zogres, Hobgoblins, Jogres, Tribesmen, Moss Giants, Chaos Druid, Kalphite, Flesh Crawlers, Green Dragons.
File:Law Talisman.PNG Law talisman
Yes

Script error

Abyssal creatures, Guards, Terrorbirds, Tortoises, Ghouls, Paladins.
File:Death Talisman.PNG Death talisman
Yes

Script error

dark beasts, dragon implings
Obtained during the Mourning's Ends Part II Quest.
File:Blood Talisman.gif Blood talisman
Yes

Script error

---
Awarded after Legacy of Seergaze Quest.
File:Soul talisman.gif (Soul talisman)
Yes
N/A
Currently doesn't exist ingame.
File:Elemental Talisman.PNG Elemental talisman
Yes

Script error

Abyssal Walker, Abyssal Leech
Can access air, water, earth, fire altars.
Cannot be bound into tiaras.
File:Omni talisman.gif Omni-talisman
Yes
N/A
---
Obtained in the Runecrafting Guild. Can access all altars.
Tiaras
Talismans take up a space in a player's inventory, allowing them to only hold 27 essence maximum in their inventory. However, a tiara can fix this. A player can combine a talisman and an ordinary silver tiara together, then wear the tiara on their head while still being able to craft runes. This saves inventory space, allowing players to hold a full pack of essence. Players can either craft a tiara, or buy one from another player.
To enchant a tiara, the player needs to bring the talisman to an altar (explained in the next section). For example, if a player wants to make air runes wearing a tiara, then they will have to bring their air talisman to the air altar and use either item on the altar to combine them. Players can also earn some Runecrafting experience from making a tiara, shown in the table below. Additionally, making a tiara does not have a Runecrafting level requirement.
Talisman staves
Script error
With the release of the Runecrafting guild, also came the release of "Talisman staves." A runecrafting staff can be purchased as a reward from the Great Orb Project mini-game, it can be use to make talisman staffs, and has two uses.
The first use is that a talisman staff can be used in place of tiaras or talismans. In addition, they can be used to distract the eyes in the Abyss, allowing them to the central portals. This relatively "useless" staff is mainly obtained purely for the act of accomplishments as most players will not spend 10,000 Runecrafting guild tokens to buy an item easily replaceable with an easy-to-get tiara.
To bind a talisman to a Runecrafting staff, take the talisman and staff to the appropriate altar and use either of the two on the altar. Runecrafting staves can be bound to an omni-talisman; simply use the talisman or staff on any altar. Additionally, the player can also speak to Wizard Korvak to bind an omni-talisman to a tiara or Runecrafting staff free of charge, simply by bringing him a tiara or Runecrafting staff while having the omni-talisman in their inventory.
Runecrafting staffs are not able to be equipped until a talisman is bound to it. With no requirements other than 50 Runecrafting, the staff has fairly high Strength bonus (+33). A law staff has no stats, so it can be taken to the law altar via either the abyss or by conventional means. The omni-talisman and tiara can be used to travel to Entrana. However, because the omni-staff has equipment stats, it cannot be taken to Entrana, thereby making it useless for law rune crafting. This flaw in the "omni"- talisman staff has flared much criticism on the RuneScape Forums, as well the staff mainly being just an extremely expensive decoration as opposed to using merely a tiara.
Altars
Script error
Altars are where players transform their essence into runes. Tiaras, talismans or talisman staves are needed to enter these altars hidden inside the 'Mysterious ruins.'
Mysterious ruins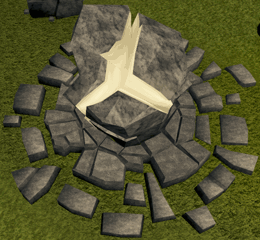 Mysterious ruins are large, glowing, grey rocks surrounded by ruined pillars. They are used in order to travel to the altar of the runes being made. The player must have the talisman, tiara or talisman staff of the type of runes they wish to craft. Mysterious ruins can be found by selecting the 'locate' option on a talisman. In the chatbox, the player will notice a message that will tell them the direction they need to go.
Once the mysterious ruins are visible, the player must use their talisman on the ruins to be teleported to the altar. If they are wearing an enchanted tiara, a simple click on the ruins will transport the player to the altar.
An alternative to using talismans and the mysterious ruins is the Abyss.
Altar locations
Altar
Location
Closest bank
Picture
Air altar
Northeast of the Crafting Guild and south of Falador.
Falador east
File:Air Altar Map Location.PNG
Mind altar
Between Ice Mountain and Goblin Village.
Edgeville, Falador west
File:Mind.png
Water altar
South of Lumbridge in the swamps by the dungeon.
Lumbridge
File:Rcmap3.png
Earth altar
Northeast of Varrock.
Varrock east
File:Rcmap4.png
Fire altar
North-east of Al Kharid, next to the Duel Arena.
Al-Kharid, Duel Arena
File:Rcmap5.png
Body altar
Between Ice Mountain and Barbarian Village, south of the Monastery.
Edgeville
File:Rcmap6.png
Cosmic altar
Southern Zanaris.
Zanaris
File:Rcmap7.png
Chaos altar
Wilderness level 9, north-west of Edgeville.
Edgeville (altar), Varrock east (statue)
250px
Astral altar
Lunar Isle, no talisman required.
Lunar Isle
File:Rcmap12.png
Nature altar
North of Shilo Village.
Shilo Village
File:Rcmap9.png
Law altar
Northern Entrana.
Void Knights' Outpost (via ship)
File:Rcmap10.png
Death altar
Mourning's End Part II temple, bottom floor. Also accessible from the underground pass.
Lletya
File:Rcmap11.png
Blood altar
Meiyerditch Caverns connecting The Hollows and Meiyerditch.
Burgh de Rott
(Soul Altar)
(Unknown, not yet released)
(unknown)
Ourania rune altar
West of the Battlefield, and south-west of Ardougne.
Eniola, East Ardougne
Abyss
Script error
Players can also be teleported inside the ruins by using the Abyss, which does not require a tiara or a talisman. The Abyss was once considered the best way to runecraft, because players can access almost all of the altars in a very short time. However, despite being much faster in many cases, players often choose not to use this route due to the risk of the Wilderness. Players travel to level 5 Wilderness to be teleported. But since the release of Runecrafting Teleport Tablets, the Abyss has become obsolete to those willing to play The Great Orb Project.
Rune pouches
Script error
Inside the abyss or the abyssal area (by fairy ring ALR), there are monsters that drop pouches when killed. Players can store [PURE] essence in pouches, effectively increasing the amount of essence that may be carried per trip.
Players must acquire each pouch in turn before the next pouch becomes available to them. The medium pouch will only drop if the player has a small pouch (though the small pouch does not have to be in the player's inventory), the large pouch drops once the player has a medium pouch and a small pouch, etc. The larger the pouch, the greater the required Runecrafting level to use it. Also when a player gains a pouch, there might be a random number of pure essence in it already.
Runecrafting pouches degrade after a certain number of uses. When a pouch degrades, a message will appear in the chat box and the pouch will turn darker in colour. Note that this only affects the largest pouch at first; if a player owns a medium pouch and a small pouch, then the medium pouch will degrade before the small pouch. When a pouch degrades, its carrying capacity is reduced. The Dark Mage in the centre of the Abyss repairs pouches for free, regardless of whether the pouches are in the player's inventory or bank. A player can also speak to Wizard Korvak in the Runecrafting Guild who will repair large and giant pouches for 9,000gp and 12,000gp, respectively. He also sells large and giant pouches for 25,000gp and 50,000gp, respectively.
If you are Runecrafting in the Abyss when you discover that one of your pouches has degraded, repair them in the Abyss and consider finding the Body rift and exit via the portal, this will teleport you just south west of Edgeville, without the use of a Glory charge. This will ensure maximum runes for each fully charged Glory.
| Image | Type of Pouch | Required Level | Essences held | Notes |
| --- | --- | --- | --- | --- |
| | Small pouch | 1 | 3 essences | Obtained from Zamorak Mage |
| | Medium pouch | 25 | 6 essences | Dropped by Abyssal monsters; bought from Wizard Korvak in Runecrafting Guild for free |
| | Large pouch | 50 | 9 essences | Dropped by Abyssal monsters; bought from Wizard Korvak in Runecrafting Guild for 25,000 coins |
| | Giant pouch | 75 | 12 essences | Dropped by Abyssal monsters; bought from Wizard Korvak in Runecrafting Guild for 50,000 coins |
Ourania rune altar
Script error
The Ourania rune altar, also called the ZMI Altar, converts pure essences into a mixture of runes. This altar requires no talisman or tiara to use. The Ourania Altar converts essences into runes on a one to one basis (that is, multiple runes per essences is not supported).
The altar gives double the experience for every rune crafted on the altar. This feature almost halves the amount of pure essences needed. The altar boosts single player Runecrafting training to speed levels that were previously only available by using groups of players running essences to a runecrafter at an altar.
Crafting runes
When a player has entered the mysterious ruins, all they have to do is click on the altar. They will then craft all the essence in their inventory (except any noted essence or essence stored in pouches) into runes.
Soul runes can only be crafted in the Ourania Runecrafting Altar as they do not yet have an altar of their own. However, images of the soul talisman and tiara have been leaked in the Knowledge Base, by making their URLs very easy to guess. This, coupled with the fact that there is a Soul rift in the Abyss (that cannot be used), this shows that this rune will probably become craftable sometime in the future.
Crafting multiple runes
For calculations of profit/loss from crafting multiple runes, see the Multiple Runes calculator.
As a player's Runecrafting level increases, they can make more runes per essence. However, they only earn experience based on the amount of essence they craft. For example, a player may have only one essence in their inventory, but can make two air runes. They will only receive five experience, as they only used one essence. The number of runes made from the essence in a player's inventory in an action that gains a level is determined by the player's level before the Runecrafting action, even if crafting the same amount of essence one piece at a time would yield more runes.
Law, Death, and Blood runes cannot be multicrafted.
| Rune | Lvl for 2x | Lvl for 3x | Lvl for 4x | Lvl for 5x | Lvl for 6x | Lvl for 7x | Lvl for 8x | Lvl for 9x | Lvl for 10x |
| --- | --- | --- | --- | --- | --- | --- | --- | --- | --- |
| Air | 11 | 22 | 33 | 44 | 55 | 66 | 77 | 88 | 99 |
| Mind | 14 | 28 | 42 | 56 | 70 | 84 | 98 | - | - |
| Water | 19 | 38 | 57 | 76 | 95 | - | - | - | - |
| Earth | 26 | 52 | 78 | - | - | - | - | - | - |
| Fire | 35 | 70 | - | - | - | - | - | - | - |
| Body | 46 | 92 | - | - | - | - | - | - | - |
| Cosmic | 59 | - | - | - | - | - | - | - | - |
| Chaos | 74 | - | - | - | - | - | - | - | - |
| Astral | 82 | - | - | - | - | - | - | - | - |
| Nature | 91 | - | - | - | - | - | - | - | - |
Explorer's Ring
Script error
Players wishing to craft air, earth, fire or water runes should wear the Explorer's ring, as it gives the wearer a chance of receiving extra runes when crafting these.
Combination runes
Script error
Members have an extension to Runecrafting, which is all but unused.
To craft combination runes, a player needs to bring existing runes that are one half of the combination, with a matching talisman (not a tiara), along with an equal amount of pure essence, to the altar which comprises the other half of the combination. Use the talisman for the existing runes on the altar, resulting in:
The talisman is consumed.
50% success in making combination runes.
For 100% success, players can wear a 'Necklace of Binding' (enchanted emerald necklace), but this is only good for 15 uses. The runes made can often save inventory space when used for certain spells, including those in Ancient Magicks. Alternatively, the player may use the lunar spell Magic Imbue to make combination runes without using the opposing talisman.
Players receive less experience at the lower-leveled altars. For example, making mist runes at the air altar will give 8 xp for each rune made, while the same runes at the water altar will give 8.5 xp for each rune made.
Crafting soul runes
At level 90 Runecrafting, a player used to receive a message informing them of their ability to craft Soul runes. However, the only way to craft these runes is randomly through the Ourania Runecrafting Altar, as there is no temple, talisman, or tiara. However, pictures of the tiara and talisman have been seen on the Knowledge Base by manipulating URLs, indicating that they may be released some day.
Runecrafting gloves
Runecrafting gloves are a group of rewards from the mini-game Fist of Guthix for 75 tokens. These gloves are only available for air, water, and earth.
Runecrafting gloves give double the experience for the type of rune to be crafted. For example, a player wearing the air runecrafting gloves will receive 10 experience per essence rather than 5. 1000 essence may be crafted in this manner until the gloves crumble to dust. It should be noted that crafting Earth runes while wearing the Earth runecrafting gloves and the runecrafting set minus the gloves gives the best Runecrafting experience per essence in the game. Players can play Fist of Guthix to receive another pair.
Runecrafting Guild
Script error
The Runecrafting Guild is a guild released in the "Runecrafting Guild and Game" update on 12 August 2008. It is located through a portal on the first/second floor of the Wizards' Tower. Players must have a Runecrafting level of at least 50 to enter the Guild.
Features of the guild include a map of all the runecrafting altars that require talismans, Omni-talisman, two-party minigame called The Great Orb Project with rewards including Talisman staff, Runecrafting Teleport Tablets, Rune essence, Runecrafter Outfit, and Talismans.
Pay-to-play training
For the cash profit/loss per trip see Calculators/Runes_profit_per_trip, remembering that this does not reflect the differences in XP.
As previously mentioned, members have distinct advantages over free players when training Runecrafting. Members can make use of enchanted jewelery, use negative weight bonuses, use essence pouches, summon familiars, and train Agility to run longer.
It is highly recommended that runecrafting members unlock the Abyss as soon as possible. Also, members able to mine pure essence (mining level 30+) will find that it is more cost-effective to sell the pure essence (currently selling at Script error coins on the Grand Exchange) and buy rune essence (currently selling at Script error coins on the Grand Exchange) for lower-level rune-crafting.
At level 1 Runecrafting, members can make use of the Ourania Runecrafting Altar which allows them to craft all runes gaining double the normal experience, although players should use the long path (east) because on the short path (west) there are many high-level monsters. To use the bank at the entrance to the cave players must bring 20 of any rune. This remains the fastest way to gain experience for as long as you can afford the 20-rune cost, due to the double experience granted on every rune - meaning even an air-rune gives 10 exp - the same as a Death Rune - while a Death rune will give 20 exp. However it does not give as good a financial return as crafting single rune types at other altars, so players should use this altar to gain experience, and others to gain cash.
At levels 1-14 Runecrafting, training is similar to training in free worlds, in that air runes are the place to start. Players can continue this way until fire runes become craftable, or craft mind runes at level 2 and use Amulets of Glory to teleport back to the bank. (Having ten or more Amulets is highly recommended as players will spend less time traveling to and from the Heroes Guild to recharge their amulets). Another possibility is to immediately take advantage of the Abyss.
At level 14 Runecrafting, players can craft fire runes. The most efficient way to do this is to have a large number of rings of duelling and to use them to teleport back and forth between the Castle Wars arena and the Duel Arena. This method is fairly expensive as it constantly consumes Rings of Dueling, and the fire runes do not hold much profit potential, but players can gain very quick experience. Alternately, simply run from the bank chest in the Duel Arena to the Fire Altar. There is also a small summoning obelisk a few steps away from the fire altar that you can use to recharge your summoning points, so it's a good idea to bring along a bull ant (level 40 summoning required) or a spirit terrorbird (level 52 summoning required) to restore run energy.
At level 27 Runecrafting, with completion of Lost City (and, optionally, with level 66 Agility), players can start crafting cosmic runes at Zanaris. Players should make use of the Agility shortcuts to access the altar faster. One shortcut requires 46 Agility, and the other requires 66 Agility. Alternatively, if players are missing the suggested Agility levels, they could simply walk the path to the altar, or make use of the Abyss.
At level 35 Runecrafting, it is recommended to do What Lies Below, as it gives 8000 Runecrafting experience (the highest of any quest) and gives players an easier option with which to craft chaos runes.
At Runecrafting levels 40-44, players who have completed Lunar Diplomacy can craft astral runes. Otherwise, players should continue to craft chaos and/or cosmic runes. At this time, fire runes are not worth the cost per essence and the rings of duelling/profit and experience rate so it's not suggested.
At level 44, Runecrafting begins showing higher profit potential, as nature runes are craftable at level 44. Nature runes are usually fast sellers on the Grand Exchange
At level 54 Runecrafting, players can choose to continue to craft nature runes, or to craft law runes at Entrana or through the Abyss
At level 59 Runecrafting, players with low Defence can choose to craft double cosmic runes instead of law runes, which yields about the same profit although less XP than laws, but allows the use of armour, saving food.
At level 82 Runecrafting, players can choose to craft double astral runes on Lunar Isle (requires completion of Lunar Diplomacy).
At level 91 Runecrafting, the amount of nature runes produced per essence doubles. This more than doubles the profit-per-essence and can make players very rich, although very slow experience.
Training Tips
Weight
If a player completes As a First Resort Quest, the use of the saltwater energy pool is a great advantage. This saves on energy potions as well as the few seconds it takes to drink them each trip. Although it is arguable that the time taken to access the spring is a factor which must be taken into account, it can be done quite efficiently to minimise the time spent in travelling and need only be done once approximately every 15 minutes. Furthermore the thermal spring can be used at the same time to heal any damage inflicted (eg by abyssal monsters) and provide an additional few HP. This saves some of the cost of food, and also most of the cost of energy potions - on average you lose 27k an hour using super energies while runecrafting.
Members should wear the Boots of lightness while training Runecrafting so that they can run longer. They can also wear a Spotted cape or Spottier cape. Penance gloves from the Barbarian Assault minigame gives another -4.5 kg weight loss.
When mining essence, players should be only carrying a pickaxe and essence pouches so that they can run longer.
Note that Rune essence and Pure essence weigh nothing.
Running and runners
Have Jiminua un-note your pure essence at the cost of 2 coins per essence at the general store just south of Brimhaven.
Some players use runners to bring them un-noted essences in exchange for noted essences, some cash and/or some runes.
Travel north to the gnome glider from Al Kharid. Ride the glider to Karamja. Travel north-west, cross the river via the log, and then head south-west to the nature altar. Use a duelling ring to return and to the Duel Arena.
Use The Abyss, using an amulet of glory to teleport to Edgeville and bank there and then repeat.
Move your house to Brimhaven. Teleport to home and run to nature altar.
Use the fairy ring teleport system. From Edgeville run to ring across the river. At fairy ring central, use the CKR teleport to get close to the altar. Craft and use a teleport method to get back to Edgeville bank.
Bank in Catherby. Use the boat system to travel to Shipyard at Karamja. Run to nature altar. Use normal style Camelot teleport or Lunar style Catherby teleport to get back to bank.
Using the level 57 Summoning Familiar Spirit graahk special ability to teleport just north of the fairy ring, running to the altar then returning to the bank by ring of duelling or by amulet of glory.
The fastest way to craft nature runes is to buy nature tablets with tokens from the Runecrafting guild.
Walk from Draynor Village to Port Sarim. Board the boat. Craft and use glory amulet to return to Draynor.
Use the Abyss method. Have at least 10+ charged glories for this method.
After doing the Enlightened Journey quest you can unlock the balloon route to/from Castle Wars. You wear a Law tiara, a Ring of duelling and weight-saving gear. In the inventory one normal log, Pure essences and Pouches. The sequence then is: Castle Wars bank, Balloon ride to Entrana, walk to altar and craft runes.
Leave Entrana via the boat, then run to the Void Knight outpost boat and use the Void Knight outpost bank
A common method for training Runecrafting is by using runners. A runner is a player that changes noted essences into un-noted ones by converting them in a bank or a shop. The runecrafter increases the amount of essences processed and the runner gets a good reward. Common player worlds where runners are used are:
The Ourania rune altar provides a very fast way to gain Runecrafting experience. The fastest option requires the use of Lunar Spells and a magic level of 71 to use the Ourania Teleport spell. The sequence then is start at a bank, teleport to ourania entrance, optionally recharge prayer upstairs, go down and walk to altar, craft runes and use a bank teleport (ring of duelling, amulet of glory, Moonclan Teleport) to repeat.
Transportation
Members can use the duel ring teleports for fast Runecrafting xp. The duel arena teleport location is very close to the fire altar and the castle war teleport is very close to a banking spot.
Members can use the fairy ring teleport system as it is a quick way to get to remote places in Runescape. (Including a teleport to the Grand Exchange)
Ultimate runecrafting outfit
This outfit enables players to run for a long time when runecrafting, thus increasing your crafting rate. Items worn:
It should be noted that this is only useful when the player is wearing armour, as there is no difference in the drain speed of energy between sub zero weights and zero.
There is no longer a threat of player-killers in the level 5 wilderness near the Abyss but of course beware of the dreaded Revenants. However, keep in mind that if you are in level 6 Wilderness, only Revenants six levels over/below your level can attack you.
Other
Another way to gain runecraft experience may be the assist system. It is recommended to team up with a friend and both go to the same altar, you craft the runes, then assist your friend. Using the assist system, whole clans have 'power-crafted' members' levels.
Accounts have been created solely for the purpose of aiding runecrafting. Rumors that many high levelled members' accounts were started in this way have circulated throughout Runescape.
Members are better served using pouches when mining essence.
It is recommended that players mine a large amount of essence, bank them all, and then craft runes with 28 essence, or more if you have pouches in your inventory, each time.
The fastest and cheapest way to gain experience regardless is with altar tablets and explorer's ring 3. Tele to the altar, craft your runes, then use cabbage-port and bank in Draynor. (Note: This does not apply to laws as you cannot bring explorer's ring with you).
Also note that you will need a Runecrafting level of at least 50 to access the Great Orb Project mini-game.
You CANNOT use an abyssal familiar on Entrana. This was previously possible, but a hidden update now blocks you from taking a familiar to Entrana to runecraft (even though abyssal familiars are neither armour nor weaponry).
Trivia
There is a glitch if a player is crafting runes with a toy kite wielded, the player's kite would float in the air without them holding it during the runecrafting animation.
The Runecrafting Altars have an appearance similar to that of Stonehenge.
See also
Script errorScript error
Community content is available under
CC-BY-SA
unless otherwise noted.