Walkthrough
Getting started
Talk to Thormac on the top floor of the Sorcerer's Tower, south of Seers' Village, north-east of the Ardougne Lodestone. Be sure to get the scorpion cage from him and don't skip any dialogue.
Scorpion Catching
First Scorpion
Teleport to the Seers' Village lodestone, run east, and speak to a Seer (south-west of the bank).
Go into Taverley Dungeon and enter the Poison spider area.
Directly south of the level 80 Agility shortcut, search the old wall to enter a small room.
Use the scorpion cage on the Kharidian scorpion.
Go back to Seers' Village and speak to a Seer.
Second Scorpion
Go to the Barbarian Outpost (a games necklace is helpful).
Go inside the fenced area near the entrance to the agility course.
Go inside the building in the north-east corner of the area.
Catch the scorpion.
Third Scorpion
Go to the Edgeville Monastery.
Climb the eastern ladder and go to the east side of the floor (You will need to talk to Abbot Langlay to join the order, before proceeding upstairs).
Catch the scorpion.
Finishing up
Return to Thormac.
Quest complete!
Rewards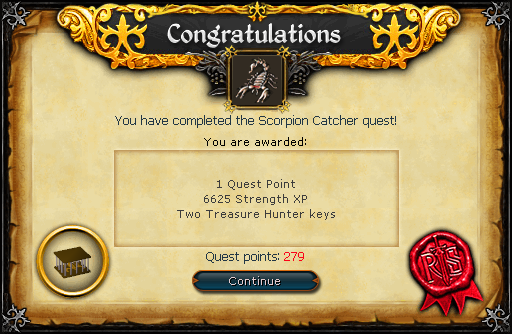 Community content is available under
CC-BY-SA
unless otherwise noted.