The Scrimshaw Crafter is a device used to craft scrimshaws in the workshop of a player-owned port. To have access to the scrimshaw crafter, the player must have at least built a refitted workshop which costs 500 black slate and 2,000 bamboo. At least 85 Fletching is required to make use of it (the requirement for the lowest-levelled scrimshaw); fletching a scrimshaw of any kind requires Ancient bones and the appropriate scroll to be completed.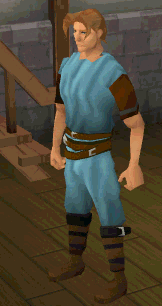 Gallery
NPCs

Main characters
Adventurers
Gu Masters
Guardians of the East
Creatures
Crew
Other
* Only during the Mega May event.
Experience lamps from Meg

Small
Medium
Large
Huge
Community content is available under
CC-BY-SA
unless otherwise noted.