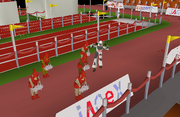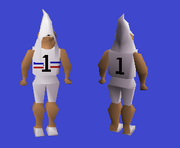 Sebastian Gno was a planned random event mentioned in a Behind the Scenes article in August 2005 as being the "fastest gnome in the world". It was to be released alongside several other random events such as the Sandwich lady. In the event, the player would have been kidnapped and forced to race against the gnome in an agility course modelled to look like an Olympic stadium with obstacles.
However, Sebastian Gno was not added to RuneScape along with the rest of the random events named, because the course was the same every time and was therefore not an effective anti-bot feature. The random event was scrapped, despite having completed graphics and testing.[1]
Trivia
It is likely that the name Sebastian Gno is a combination of the former British athlete Sebastian Coe, and Gno's race - a gnome.
In the archive of MIDI music files contained within Old School RuneScape, the song numbered 415 has this particular unused tune, which is most likely intended for this Speedy Gnome Event. According to Mod Ash, the title of the piece was "Athlete's Foot".
References
Monsters
NPCs
 Aluft Gianne snr.
 Ambassador Ferrnook
 Ambassador Gimblewap
 Ambassador Spanfipple
 Ani
 Anita
 Assistant Le Smith
 Azalea Oakheart
 Barman (Grand Tree)
 Blurberry
 Bolkoy
 Bolongo
 Bolrie
 Brambickle
 Brimstail
 Bunkdo
 Bunkwicket
 Burkor
 Captain Belmondo
 Captain Bleemadge
 Captain Daerkin
 Captain Dalbur
 Captain Errdo
 Captain Klemfoodle
 Captain Lamdoo
 Captain Muggin
 Captain Ninto
 Carado
 Challenge Mistress Fara
 Cheri
 Clockwork
 Commander Montai
 Copernicus Glyph
 Daero
 Dalila
 Damwin
 Dundee
 Eebel
 Elkoy
 Elnock Inquisitor
 Ermin
 Farmer Blinkin
 Farquie the Cleaner
 Femi
 Frizzy Skernip
 Froono
 G.L.O. Caranock
 Garkor
 Gianne Jnr
 Glough
 Glouphrie the Untrusted
 Glouron
 Gnome (Glouck)
 Gnome (Mourner Headquarters)
 Gnome ball referee
 Gnome banker
 Gnome Banker
 Gnome Coach
 Gnome emissary
 Gnome pilgrim
 Gnome Shopkeeper
 Gnome technician
 Gnome trainer
 Gnome traveller
 Gnome Waiter
 Gnormadium Avlafrim
 Golrana
 Golrie
 Guard Vemmeldo
 Gulluck
 Hazelmere
 Heckel Funch
 Hieronymus Avlafrim
 Hudo
 Junior Cadet Nirol
 Kalron
 Karam
 King Bolren
 King Healthorg
 King Narnode Shareen
 Laidee Gnonock
 Lieutenant Schepbur
 Local Gnome
 Longramble
 Lumdo
 Lumo
 Meegle
 Member of the Godless
 Mieliki Tapio
 Mounted terrorchick
 Mrs. Winkin
 Nyriki Tapio
 Oaknock the Engineer
 Oomad Arrow
 Penwie
 Perrdur
 Praistan Ebola
 Prince Argenthorg
 Prissy Scilla
 Professor Arblenap
 Professor Imblewyn
 Professor Manglethorp
 Professor Onglewip
 Remsai
 Rometti
 Sarble
 Sasquine Huburns
Sebastian Gno
 Spang
 Tamble
 Terri
 Timble
 Tracker gnome 1
 Tracker gnome 2
 Tracker gnome 3
 Trainer Nacklepen
 Waydar
 Waymottin
 Wingstone
 Winkin
 Wurbel
 Yaktwee Swinmari Cianta
 Yulf Squecks
 Zooknock
Community content is available under
CC-BY-SA
unless otherwise noted.