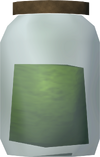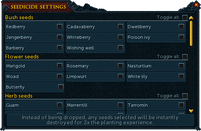 Seedicide is an item that automatically destroys selected seeds dropped by monsters in combat, in exchange for double the experience the player would normally receive from planting the seeds in a Farming patch. Pickpocketing NPCs that have seeds on their loot table does destroy seeds, but gives no farming experience for doing so. It will destroy seeds that the player does not have the level to plant, however no farming experience will be rewarded.
It can be earned through playing Cabbage Facepunch Bonanza, buying it from your Player-owned farm, or buying it from Stanley Limelight. It costs 2200 Renown points from the Quartermaster, 10,000 beans, or 360 thaler from Stanley Limelight Traders.
The Farmers' Market sells an upgrade, seedicide stealer, which automatically picks up all seeds which are not destroyed.
Seedicide may also be placed on the tool belt after buying the ability from a Slayer master for 500 Slayer points.
Suggested monsters
Seeds
Bush seeds
Flower seeds
Herb seeds
Hops seeds
Vegetable seeds
Fruit tree seeds
Tree seeds
Herblore Habitat Seeds
Other seeds
Community content is available under
CC-BY-SA
unless otherwise noted.