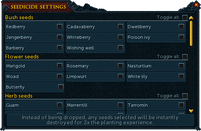 Seedicide is an item received as a reward from participating in the Cabbage Facepunch Bonanza activity or bought from Stanley Limelight for 360 thaler. Once bought and configured, it will automatically destroy selected seeds dropped by monsters in combat, in exchange for double the experience the player would normally receive from planting the seeds in a Farming patch. Pickpocketing Master Farmers does destroy seeds, but gives no farming experience for doing so. It will destroy seeds that the player does not have the level to plant, however no farming experience will be rewarded. This item does not work with Jadinko hunting on Herblore Habitat.
Originally, in order to obtain Seedicide, the player must participate in the Cabbage Facepunch Bonanza activity, until they have accumulated 2200 Renown points. Upon talking to the Quartermaster with the required points, the player may purchase one. Seedicide still functions whether it is equipped or left in your inventory.
As of 18 May 2015, Seedicide may be purchased from the Minigame Spotlight for 360 thaler. And as of 8 June 2015, the seedicide may also be placed on the tool belt after buying the ability to put it there from a slayer master for 500 slayer reward points.
Suggested monsters
Seeds
Bush seeds
Flower seeds
Herb seeds
Hops seeds
Allotment seeds
Fruit tree seeds
Tree seeds
Herblore Habitat Seeds
Other seeds
Trivia
Following an update on 20 July 2014 seedicide can be used whilst pickpocketing as a convenience item with no Farming experience is awarded for seeds consumed in this way.

However, it did not work when pickpocketing Crwys workers, prior to the removal of seeds from their loot table.

Following an update on 20 July 2014 seedicide will convert seeds dropped from killing jadinkos in the Herblore Habitat area. 
There used to be a glitch where the seedicide does not have to be in the player's inventory to work. This was fixed on 20 July 2014.
There is currently a glitch where whiteberry seeds do not get converted.
There is currently a glitch where pineapple seeds do not get converted from Aquanites.
There is a toggle for white lily seeds despite no monsters drop them.