Seren Memories is an achievement that requires the player to find all four of Seren's memoriam crystals and claim the Crest of Seren override on Freneskae after Fate of the Gods.
The four Seren crystals can be found in a special area in the Approach which cannot be reached until Fate of the Gods has been completed, since a bridge is formed when a pillar is knocked over by Mah's awakening.
Quick path to the Seren's Memorial crystals:
Start in the Sanctum, exit south into The Approach;
North, traverse the rock formation bridging a lavafall;
West, south, climb rock formation with black spikes;
West, walk across rock formation with purple healing crystals and climb down the Cliffside;
East, cross rock bridge into the area with crystal pillars.
Players will be in an area with four pillars and four inactive crystals. One of the pillars will be active, and can be tagged. Tagging 80 active pillars will unlock all four crystals.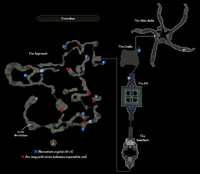 Trivia
Before an update on 10 September 2018, this achievement had 20 RuneScore.
Community content is available under
CC-BY-SA
unless otherwise noted.