{{
Expansion depth limit exceeded
|Template|{{
Expansion depth limit exceeded
|preload|{{
Expansion depth limit exceeded
}}
---
This page is a preload template. Simply click one of the template preloads from the menu in the editor and its contents will be placed on the page that you are editing. More info on preloads can be found at this
documentation page
.}}}}
{{
Expansion depth limit exceeded
|name = Sir Chen Rescoo
|image =
|release = 19 December 2012 |update = A Stray in a Manger |race = Dog |members = No |quest = No |location = Draynor Village |shop = No |gender = N/A |examine = Still has fleas!
Sparkly clean! |map =

}}
{{
Expansion depth limit exceeded
|name = Sir Chen Rescoo
|image =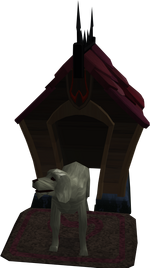 |release = 19 December 2012 |update = A Stray in a Manger |race = Dog |members = No |quest = No |location = Falador, Al Kharid, Draynor Village or Varrock |shop = No |gender = N/A |examine = Who's a good doggy?
|map =




}}
Sir Chen Rescoo is a stray labrador that can be found near the White Knights' Castle during the 2012 Christmas event. If players put dog antlers on it, it will teleport to the Snow imp. He can be adopted by players after the event, and will reside in one of the customisable kennels around RuneScape.
Trivia
The name is a play on the words search and rescue.
Community content is available under
CC-BY-SA
unless otherwise noted.