Sister Elena was an elderly nun at the Abbey of St. Elspeth Citharede who acted as its cook. She tended to favour cabbage-based dishes, such as cabbage soup, due to its abundance at the Abbey.[1] She had a low opinion of Sisters Anna and Catherina, considering the former to be a troublemaker who was too strict with the rules[2] and the latter to be undisciplined.[3] She was unhappy with her life at the Abbey but didn't have the courage to leave,[4] and one day, while getting supplies in Al Kharid, she met the troubadour Valerio. They began a secret affair, using food packages to smuggle letters to each other, and using a secret passage in the kitchen to allow Valerio undisturbed access to the abbey.[5] However, Sister Anna found the letters and demanded Sister Elena be expelled from the abbey. Abbess Benita chose to be lenient, giving Sister Elena a final chance so long as she broke off the relationship.[6] However, their relationship continued.
She was the second victim of the Killer, after an applicant disguised to look like Sister Anna. The Killer snuck in using the tunnel in the kitchen and slew Sister Elena for her relationship with Valerio, considering her to be unworthy of being a member of the Abbey.[7] The Killer then used the same tunnel to escape after being spotted by Sister Cecilia.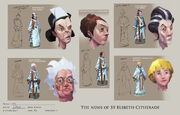 References
High Priest
Abbot
 Langley
 Benita
Father
Brother
Sister
Other
† denotes that a priest or priestess is deceased, ‡ denotes that a priest or priestess is no longer a Saradominist
Community content is available under
CC-BY-SA
unless otherwise noted.