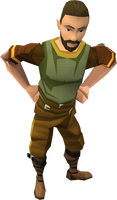 Skill Tutors are NPCs in the Burthorpe/Taverley area who gives recommended tasks for various skills and offers teleports to the related locations in some cases, as well as selling basic supplies for the respective skill. They are marked by an orange or grey-blue icon of their skill above them in the main game screen, and a blue icon of their skill in the world map and the minimap. Most of them have a large blue flag with a white icon of their skill next to them.
List of Skill Tutors
Trivia
Many of the skill tutors' surnames refer to the skill they specialise in, such as Oakfeller for Woodcutting, or Beaststalker for Hunting.
Community content is available under
CC-BY-SA
unless otherwise noted.