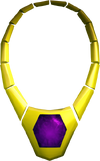 A skills necklace is a dragonstone necklace that has been enchanted with the spell Enchant Level 5 Jewellery.
A freshly enchanted dragon necklace will have zero charges. It can carry up to four charges, each of which can be used to teleport to the entrances of the following guilds:
Like the other enchanted pieces of dragonstone jewellery, the teleports of a skills necklace can be used in up to level 30 Wilderness, instead of level 20, the normal limit for teleportation.
As long as it has at least one charge, a worn skills necklace will slightly increase the chance of finding a casket while fishing with a big net.
When it runs out of charges, it can be recharged at the totem pole in the Legends' Guild or the Tears of Seren fountain in Prifddinas. A geyser titan cannot recharge a skills necklace.
Combat Stats
Requirements
None
Class
Slot
None
Tier
None
Weapons
Main
Off
Damage
-
-
Accuracy
-
-
Style
-
Range
-
Attributes
Damage reduction
Armour
0
PvM:

0%

PvP:

0%

Life points
0
Style bonuses
Prayer
0

0

0

0

[FAQ] • [doc]
Disassembly
Standard
Enchanted
Dungeoneering Rewards
Quest
Clover
Miscellaneous
Gems
Jewellery
Enchanted jewellery
 Skills necklace (Compacted)
Fletching
Community content is available under
CC-BY-SA
unless otherwise noted.