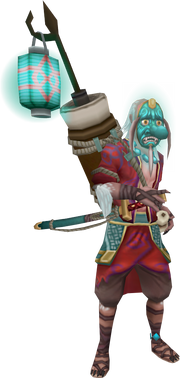 Sky orphans is a term used to refer to humans from the Wushanko Isles who have an affliction similar to that of sea orphans, but instead have characteristics that make them resemble birds and other winged creatures. The sky orphans were hunted to near-extinction by an offset group of Purists known as the Lead Foot. Shanao is the last known sky orphan alive.
NPCs

Main characters
Adventurers
Gu Masters
Guardians of the East
Creatures
Crew
Other
 Warehouse worker
 Death Lotus assassin
 Brother Jered
 Kakashi
 Hearthen
Sky orphans
 White Knights
* Only during the Mega May event.
Experience lamps from Meg

Small
Medium
Large
Huge
Community content is available under
CC-BY-SA
unless otherwise noted.