Special moves are a feature of the Summoning skill. They are unique abilities possessed by Summoning familiars, and are activated by using Summoning scrolls. Their effects include dealing more damage to an opponent, healing the player, banking items, and many other aids to combat and skilling. The potency of a special move increases with higher level familiars.
In addition to Summoning scrolls, special moves cost points, represented as a spell point bar in the Summoning interface. A full bar equates to 60 spell points. Each use of a special move depletes these points, until there are not enough for the familiar to perform any further moves. Special moves can be activated by clicking on the howling wolf icon in the Summoning interface or by setting it as the left click option on the Summoning icon on the action bar. Mousing over the howling wolf icon details the special move and how many points it costs. The number above the icon indicates how many scrolls are held.
By storing in a familiar the necessary scrolls, it will use its special move automatically, given it has the required spell points. The amount of attacks between special moves can be changed by right-clicking the spell point bar. Values from 0 to 15 are permissible; choosing 0 means the familiar will never use its special move. A combat familiar can hold up to 500 scrolls, which can be withdrawn by using the take beast of burden items button .
The points cost for each special move varies, ranging from 3 points for low-level moves like Howl and Dreadfowl Strike to 20 for the Wolpertinger's Magic Focus and the Unicorn stallion's Healing Aura. The spell point bar will recharge over time at a rate of 15 points per every 30 seconds, thus taking 2 minutes to recharge fully.
A Summoning potion restores 15 of the familiars Summoning spell points per dose as well as restoring a players Summoning points. It is the only available method to raise the familiars spell points besides natural recharge or player death. The level of spell points remains with the player even after a familiar is gone.
Wearing a Spirit cape will reduce the spell point cost by 20%, but only for combat familiars and the Unicorn stallion.
List of all Special moves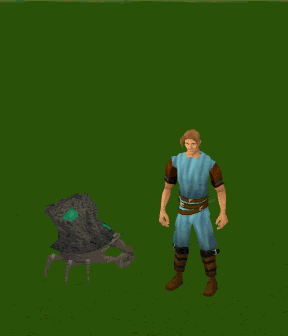 | Familiar | Special move |
| --- | --- |
| Moss titan, Ice titan and Fire titan | Titan's Constitution |
| Void ravager, Void spinner, Void shifter and Void torcher | Call to Arms |
| Spirit cockatrice, Spirit guthatrice, Spirit saratrice, Spirit zamatrice, Spirit pengatrice, Spirit coraxatrice, and Spirit vulatrice | Petrifying Gaze |
| Spirit war pig, Spirit pack pig and Spirit prayer pig | Bacon blast |
| Ice nihil, Blood nihil, Smoke nihil and Shadow nihil | Annihilate |
| Phoenix, Reborn phoenix | Rise from the ashes |
Community content is available under
CC-BY-SA
unless otherwise noted.