The spirit scorpion is a combat level 19 Summoning familiar that is solely used for Combat. It can be summoned with a spirit scorpion pouch.
A spirit scorpion is level 23 and can hit up to 259 damage. Additionally, its venom shot scroll gives the player a chance of making their next Ranged attack poisonous. However, this is not very accurate and so is mostly neglected by players.
Spirit scorpion pouch
Venom shot scroll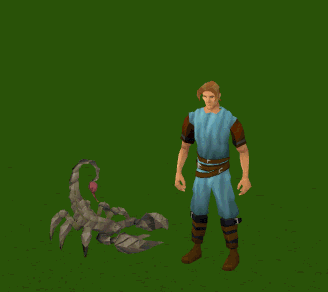 Venom shot
Venom shot is the special move of the Spirit scorpion. When activated, it gives a player weapon poison for 30 seconds.
Dialogue
Trivia
A vinegaroon is another name for a Whip scorpion.
At least 1 of these pouches are needed to complete the Spirit of Summer quest
The scorpion's chat line "Say hello to my little friend!" is a reference to Scarface.
The scorpion's rogue like dialogue stems from its aggressive nature of appearing in resource gathering grounds with abundant resources, killing low levelled players as they attempt to gather the resources.
The scorpion tail sign in the summoning pouch and summoning scroll resembles the sign of The Brotherhood of Nod from the Command & Conquer series.
Regular familiars

Gold charm
Green charm
Crimson charm
 Spirit scorpion
 Spirit Tz-Kih
 Vampyre bat
 Honey badger
 Evil turnip
 Pyrelord
 Bloated leech
 Smoke devil
 Spirit cobra
 Stranger plant
 Ravenous locust
 Phoenix
 Granite lobster
 Praying mantis
 Talon beast
 Demon brawler
 Demon deacon
 Demon executioner
 Spirit dagannoth
 Reborn phoenix
 Swamp titan
 Wolpertinger
 Iron titan
 Pack yak
 Pack mammoth
 Steel titan
Blue charm
Elder charm
Clay familiar
Other
 Meerkats
 Ghast
 Chocatrice
Community content is available under
CC-BY-SA
unless otherwise noted.