Walkthrough
| | |
| --- | --- |
| Start point | Talk to Awusah the Mayor in Nardah. |
| Member requirement | Members only |
| Official difficulty | Intermediate |
| Official length | Medium |
| Requirements | Skill requirements are not boostable unless marked with a [B] for boostable. |
| Items required | Items from the tool belt are not listed unless they do not work or are not automatically added. |
| Recommended | |
| Enemies to defeat | |
Players must be on the standard spellbook to complete this quest (or have Spellbook Swap available).
Getting started
Head to Nardah (fairy ring dlq) and talk to Awusah the Mayor, east of the fountain.
Head to the house north-east of the fountain and talk to Ghaslor the Elder. You should receive a Ballad.
Head to the building that has a statuette plinth just west of Ghaslor's house and north of the fountain.
Telegrab the ancestral key from the table.
Search the north-west cupboards for some torn robes.
Fix the top and bottom robes.
The Golems
Items needed: Rope, bow and arrows
Head north, past the Dominion Tower until a waterfall is seen.

There is a bronze arrow south-east of Dominion Tower and a shortbow north-east of it.

Climb the waterfall.
Equip the robes of elidinis and open the door.

If the door will not open, talk to Ghaslor the Elder and attempt to open it again afterward.

Head east to the three doors.
Open the door, kill the golem, then clear the water channel for each room.
Head north to the large area and talk to one of the spirits.
Head back to Nardah.

It is possible to be bugged when exiting the cave. To get out of the bug, simply use a Home Teleport spell.
The Genie
Talk to Awusah the Mayor.
Head west from the Nardah General Store and climb-down the crevice.
Talk to the Genie , then talk again.
Head back to Nardah and use the statuette on the plinth in the shrine room, north of the fountain.
Quest complete!

Pray at the statuette while you're here to complete a task!
Rewards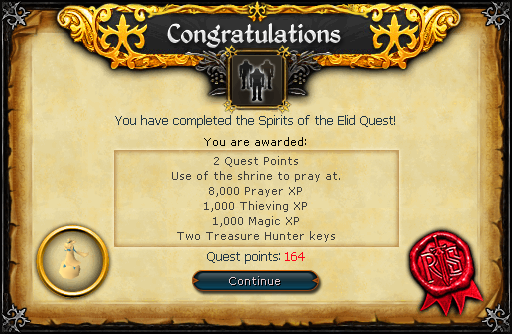 Music unlocked
Community content is available under
CC-BY-SA
unless otherwise noted.