Roblox: DeepWoken - The Loop
Play Sound
Spiritual Enlightenment is a part of the Tales of the Arc miniquest series.
Start point

Talk with Ling (contracts) on Aminishi
Member requirement
Members only
Official difficulty
None
Official length
Medium
Requirements
Skill requirements are not boostable unless marked with a [B] for boostable.

Quests:

Completed the "Meet the Assassin" voyage from Player-owned port

Items required
Items from the tool belt are not listed unless they do not work or are not automatically added.
Recommended

High level armour, weapons, and food. Enemies are weak to air spells

Enemies to defeat
Walkthrough
The Task
To begin, speak to The Assassin (Ling) on the island of Aminishi. She asks for help finding the monk, Yulong, but keeps her reasons secret. Ling suggests fighting the Acolytes of Seiryu on the northern portion of Aminishi to obtain clues.
The Path of Enlightenment
Killing any monks of Aminishi will allow you to receive the three books. The books are The Path of the Monk, The Path of the Elemental, and The Path of the Dragon. The books have a 1/16, 1/32, and 1/64 chance of being dropped respectively. As you obtain the books, read them to progress in the miniquest. Be sure to save at least a few of the Spirit dragon charms you obtain, as you will need them later.
The three types of monk are the Sotapanna, Sakadagami, and Anagami. They require 90 Slayer to damage. All three types of monks are weak to Air spells.
Spirit Realm
Once all three books have been obtained and read, return to the southern shore and speak to Ling. You must speak to Ling before you can interact with Yulong. Then, with a few Spirit dragon charms in your inventory, head to the centre of the island, near the Sakadagami. Interact with the dragon statue to be sent to the Spirit Realm. A Spirit dragon charm is consumed per minute spent in the Spirit Realm. Run to the southern shore of the island (where Ling stood before) and speak to Yulong. Charms aren't consumed while you're talking to him. You must decide to either tell Ling where he is or agree to keep him hidden.
Finishing Up
Once you finish speaking to Yulong, return to the statue and exit the Spirit Realm. Run back to the beach and speak to Ling. Depending on your earlier choice, you will either reveal Yulong's location or keep it a secret. Ling admits that Yulong was not a target for her to assassinate, but rather a childhood friend and ex-member of the Death Lotus assassin. Finish your conversation with Ling to complete the mini-quest.
Rewards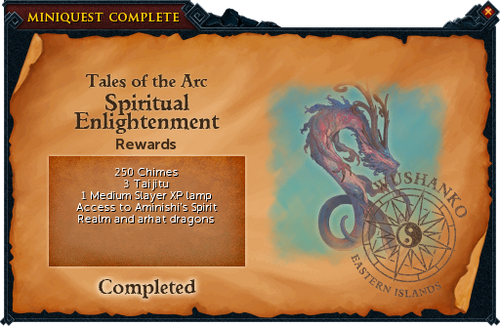 Achievement
Required for completing
Transcript
Trivia