Raise a Floppa - The Loop
Play Sound
Splitbark equipment is a tier 40 set of magic equipment, consisting of armour, a wand and orb, and a shield. Each piece of splitbark equipment can be made by Wizard Jalarast at the Wizards' Tower, if players pay a fee and bring her the fine cloth and bark required. The cost to make each item in the set can be found here.
In order to obtain the raw materials, players must go to Morytania to cut hollow trees, east of Canifis, and complete the Shades of Mort'ton quest to commence with the process of killing and burning shades to obtain the fine cloth. One can also buy these materials in the Grand Exchange, where they are relatively inexpensive, or from Zaff's Superior Spellcasting in Varrock.
The full set can be stored in the magic wardrobe found in the costume room of a player-owned house.
Magic weapons
Main hand weapons

Item
Main-hand
Off-hand
Attribute
Style bonus
Price
Style
Dmg
Acc
Style
Dmg
Acc
Splitbark wand
Spell-
casting
-
628
-
-
-
0
0
0
-
-
-

17,187
Off-hand weapons

Item
Main-hand
Off-hand
Attribute
Style bonus
Price
Style
Dmg
Acc
Style
Dmg
Acc
Splitbark orb
-
-
-
Spell-
casting
-
628
0
0
0
-
-
-

16,722
Armour

Item
Attribute
Style bonus
Price
Splitbark helm
125
0
0
-
-
-

5,197

Splitbark body
144
0
0
-
-
-

26,024

Splitbark gauntlets
31
0
0
-
-
-

2,699

Splitbark legs
138
0
0
-
-
-

58,502

Splitbark boots
31
0
0
-
-
-

5,266

Totals
469
0
0
-
-
-

97,688

Splitbark shield
125
0
0
-
-
-

14,640

Totals
594
0
0
-
-
-

112,328
Grand Exchange sets
Splitbark armour set

Item
Attribute
Style bonus
Price
Splitbark helm
125
0
0
-
-
-

5,197

Splitbark body
144
0
0
-
-
-

26,024

Splitbark gauntlets
31
0
0
-
-
-

2,699

Splitbark legs
138
0
0
-
-
-

58,502

Splitbark boots
31
0
0
-
-
-

5,266

Totals
469
0
0
-
-
-

97,688
Trivia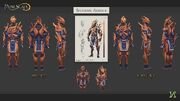 Armour
Weapons
 Wand
 Orb
Materials
 Bark
 Fine cloth