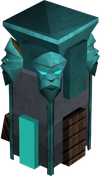 The spring cleaner 9000 is a drop cleaner that can upgraded from the spring cleaner. It requires 2,200 springs to upgrade from the spring cleaner 5000 (4,000 total), either via normal use or by instantly consuming them from the inventory (gaining no charges in the process). A further 6,000 springs (for 10,000 total) will upgrade the cleaner to the spring cleaner 9001.
The additional benefits the 9000 has over the previous version are:
Gives 33% more bonus experience in research mode (four times the base experience)
Has an even further increased success rate in dismantle mode
For a detailed description and breakdown of the mechanics, see Spring cleaner#Mechanics.
Community content is available under
CC-BY-SA
unless otherwise noted.