Strongbones
Release
12 November 2007 (Update)
Members
Yes
Examine
A goblin high priest, back from the grave.
Combat info
Level
LP
XP
XP
36
1,300
56.1
18.5
Equipment XP (2H/MH & Armour/OH)
3 / 2 / 1
Aggressive
Poisonous
Slayer
Level
XP
Category
1
? (edit)
Skeletons
Assigned by
Offensive
Max hit
78
0
104
0
Style
Speed

4 ticks (2.4s)

Combat levels
Defensive
Armour
Weakness
395
26
Affinities
90
45
65
55
Immunities
? (edit)
? (edit)
? (edit)
[FAQ] • [doc]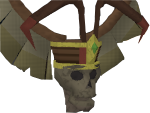 Strongbones is the last goblin priest to battle in the Land of the Goblins quest as well as the Hopespear's Will miniquest. He is also the most intelligent of the five high goblin priests. He calls many skoblins to aid him, and if one is dead, it will be replaced immediately by another. He is located in the crypt inside the Goblin Temple, which itself is beneath the Goblin Cave.
Trivia
He seems to know that the chosen commander is a female, although the goblin prophet, Hopespear, doesn't know it.
He speaks English fluently and properly; this is because he was alive during a time when goblins were a highly intelligent race.
He should not be fought with area of effect abilities, as if a skoblin minion dies after Strongbones does by any means, your conversation will be interupted.
Part 4 of the Dorgeshuun quest series
NPCs
Enemies
Items

Goblin mail
Goblin tribe keys

Rewards
Locations
Music
Miscellaneous
Monsters
NPCs

| | |
| --- | --- |
| Pirate quest series | |
| Others | |
Misthalin
Asgarnia
Kandarin
Kharidian Desert
Ape Atoll and Karamja
Hallowvale/Morytania
Fremennik
Wushanko Isles
Gnome Empire
Dwarven Realm
Elven Lords and Ladies
Land of Snow
 Queen of Snow
 Santa Claus
 Jack Frost
Yu'biuskian
Others
Community content is available under
CC-BY-SA
unless otherwise noted.