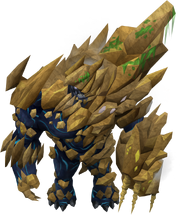 The Strongest monster in RuneScape (based on combat level) is currently tied between Vorago, Yakamaru, and Seiryu the Azure Serpent, all with a combat level of 10,000. Monsters that are not attackable, such as the Ferret of Doom, are not included.
Although Telos, the Warden (as well as the pure, volcanic, and Corrupt anima-golems) would technically be the strongest monsters in RuneScape if fought in an encounter of 801% or higher enrage (which would give them a combat level of 10,010), they do not count as they start at a combat level of 2,000 (while the anima-golems start at a combat level of 500, their combat level is the same as Telos' combat level). It should also be noted that if they were to be fought at 4,000% enrage (the highest possible enrage), their combat levels would be 42,000.
Top 10 bosses
This is a list of the 10 current highest levelled bosses in the game. Enemies summoned during boss encounters are not included.
Past record holders
Overall past record holders
Free-to-play past record holders
Quest monster past record holders
Community content is available under
CC-BY-SA
unless otherwise noted.