A Study in a player-owned house is a room where the player can create teleport or enchant tablets by using soft clay on a lectern (providing you have the runes for the tablet).
It also holds the crystal ball that can be used to change the element of staves and battlestaves, and spy on Shooting Stars with the telescope.
The study has three entrances/exits. This allows the player to use it as a straight room or a corner room.
Building a study requires level 40 Construction and 50,000 coins.
Hotspots
There are 8 different hotspots available:
Globe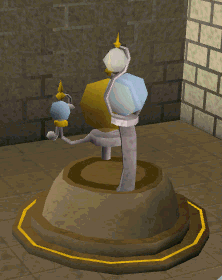 Object
Level
Materials
Experience
Supplier price
GE price
Globe
41
3 Oak planks
180

750

960

Ornamental globe
50
3 Teak planks
270

1,500

945

Lunar globe
59
3 Teak planks, 1 gold leaf
570

131,500

134,943

Celestial globe
68
3 Teak planks, 1 gold leaf
570

131,500

134,943

Armillary sphere
77
2 Mahogany planks, 2 gold leaves, 4 steel bars
960

265,636

272,322

Small orrery
86
3 Mahogany planks, 3 gold leaves
1320

394,500

404,529

Large orrery
95
3 Mahogany planks, 5 gold leaves
1420

654,500

672,525
The globe serves only a cosmetic purpose and has no known use apart from decoration.
Lectern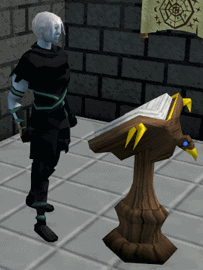 In general, eagle lecterns allow more teleportation tablets to be created, while demon lecterns allow more enchantment tablets to be created. To make both types of tablets, 2 studies with 2 different lecterns are required.
Crystal ball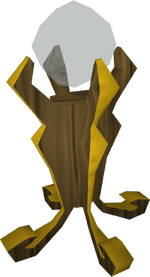 Object
Level
Materials
Experience
Supplier price
GE price
Crystal ball
42
3 Teak planks, 1 unpowered orb
280

1,742

1,187

Elemental sphere
54
3 Teak planks, 1 unpowered orb, 1 gold leaf
580

131,742

135,185

Crystal of power
66
2 Mahogany planks, 1 unpowered orb, 2 gold leaves
890

263,484

270,170
Crystal balls allow players to change the element of their elemental staves, battlestaves or mystic staves depending on the type of crystal ball built. Note that the changing of elements for battlestaves and mystic staves require a rune cost.
Telescope
Just like in a real house, if the telescope is blocked by another room in the house, it will not work and your character will say, "What's this? A close up of a wall," though if a roof is mostly blocking its view, no problems will arise.
Wall chart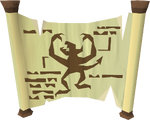 Bookcase
Statue

If you wish to move this room, you may visit Varrock museum and ask for a new plinth. When you replace the room and add this new plinth your statue will be restored to its previous state. You cannot build a second statue in another room, even if you completed the first one.
Removing the statue plinth itself will result in a loss of all progress with it.
Trivia
To make space for the statue, the crystal ball has been moved closer to the telescope.
While Studying any of the charts, you can interact with objects, such as opening doors. You will face towards them, but you will not move until you are done Studying.
Globes
Lecterns
Crystal balls
 Crystal ball
 Elemental sphere
 Crystal of power
Telescopes
 Wooden
 Teak
 Mahogany
Wall charts
 Alchemical
 Astronomical
 Infernal
Bookcases
 Wooden
 Oak
 Mahogany
Community content is available under
CC-BY-SA
unless otherwise noted.