This article is about the piñata released in Summer 2018. For the piñata released in Summer 2016, see
Summer loot piñata
.
This article is about the item. For the Treasure Hunter promotion, see
Summer Piñatas
.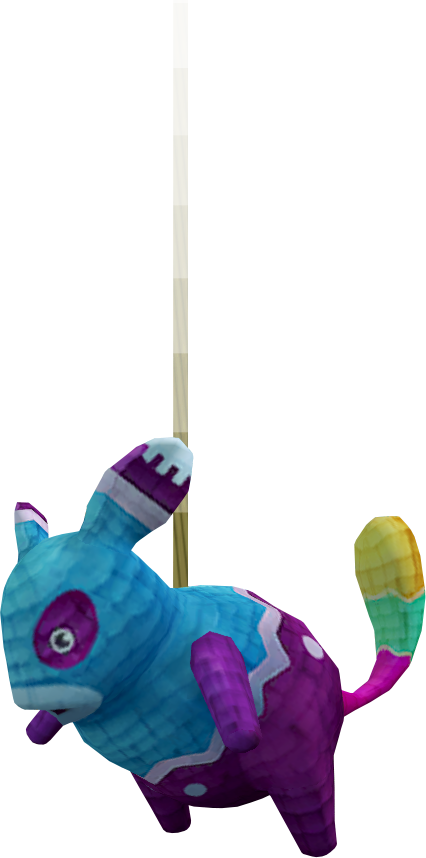 A summer piñata is a reward from Treasure Hunter during the similarly named promotion Summer Pinatas. Like other piñatas, when defeated, the user gets a summer piñata loot bag (2018) and other contributors get some token rewards.
After being deployed, it has level 1 combat and its life points vary according to attacking players; with one player attacking it has 90 life points. Damage per hit against piñatas is capped at 10. Players will not gain any experience from looting their own piñata or other players' piñata.
Possible rewards
Looting one's own piñata will give the player a loot bag. If the player loot other people's piñatas, they will receive one of the rewards listed below, up to the daily limit of 5. Only limited amount of people can receive items from a single piñata. Attacking another player's piñata will give the loot directly instead of in a loot bag.
Item
Quantity
Rarity
GE price
Cake
5 

(noted)

Varies
2,895
Caramel cup
1
Varies
Not sold
Coins
5,000
Varies
5,000
Hazelnut praline
1
Varies
Not sold
Almond toffee
1
Varies
Not sold
Prismatic small fallen star
1
Varies
Not sold
Royal battleship kit
1
Varies
Not sold
Small prismatic lamp
1
Varies
Not sold
Spirit ruby
1
Varies
Not sold
Spirit emerald
1
Varies
Not sold
Toy mouse (wound)
1
Varies
Not sold
Uncut ruby
5 

(noted)

Varies
9,210
Small dungeoneering token box
1
Varies
Not sold
Community content is available under
CC-BY-SA
unless otherwise noted.