Super September is an event that will take place in September 2013, spanning from 1 September until 30 September. During the event, members will be able to complete daily Super Challenges. These challenges will take many forms, but each day will have a unique challenge. None of the challenges will have skill or quest requirements. Progress through the day's challenge is shown the in the chatbox in cyan text, and completion is displayed in teal text, and the messages appear when the game messages are filtered, unlike normal daily challenges. These challenges must be completed on the given day and expire the next day.
All experience gained from Daily Challenges are also boosted during the event, with all challenges rewarding 2x the XP they normally would, although Dungeoneering challenges will only reward 1.25x of their regular XP.
Challenges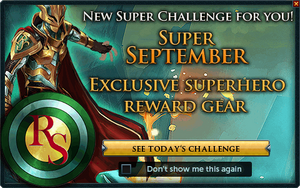 | Date | Name | Challenge |
| --- | --- | --- |
| 1 September | Miracle Recovery | Trigger 10 portents of restoration. |
| 2 September | Blood, Sweat and Tears | Gather 200 divine tears on the battlefield. |
| 3 September | Everybody Dance Now | Do a dance emote near to at least 10 people who are also dancing. |
| 4 September | Go Bananas! | Eat 50 bananas. |
| 5 September | Mad Skills | Train at least 15 different skills in a day. |
| 6 September | Bulldog | Run from the Wilderness wall to the deep Wilderness wall without dying or teleporting |
| 7 September | Schmooze | Talk to 10 different signature heroes, kings, queens or rulers. |
| 8 September | Soul Searching | Complete a game of Soul Wars. |
Schmooze
The following people work:
The following people do NOT work:
Disputed:
Behind the Scenes
These challenges were shown or mentioned in the Behind the Scenes:
Fill your inventory with 28 different varieties of food.
Hiscores events
At two different weeks during the period of September, one starting at 6 September and one at 20 September, a hiscore event will take place. These events will last for a week and can be repeated as many times a player wants. When a player ends in the top 1000 of either of the events, additional rewards may be obtained.
The Farmyard Rampage and Bulldog super challenges will have hiscore tables, each lasting one week.
Rewards
experience
, as well as milestone rewards when handing the challenge in at the
Quartermaster
in
Burthorpe
.
Milestone rewards will be awarded after completing a certain number of challenges, starting at 5. Note that these challenges do not have to be completed in a row. Some of the rewards will award Loyalty Points on top of the other items. Note that you do not have to hand the challenge in at the Quartermaster for it to count towards the Milestone rewards. All the rewards are found here:
Hiscores rewards
Additionally, if you finish in the top 1000 of one of the two hiscores events, you will obtain the following two titles (or the Superior hero outfit, if you haven't yet).
Super Super [Name]
Super supervillain [Name]
Trivia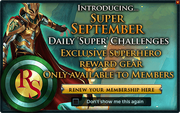 The challenge Everybody Dance Now is a reference to the song Gonna Make You Sweat by the C & C Music Factory.
You still get the popup message in F2P, but it's different than in P2P.
Players with 200m xp in 12 or more skills were originally unable to complete the challenge Mad Skills due to being unable to receive xp in these skills. This was changed quickly so that performing activities which would normally give xp would count for the challenge, even if the skill was maxed.