The swallow whole scroll enables the use of the Swallow whole special move for the Bunyip familiar. Swallow whole scrolls are made by using Bunyip pouches on a Summoning obelisk, providing 0.1 Summoning experience and 10 Swallow whole scrolls. If the Voice of Seren is active in the Amlodd District in Prifddinas, using the Prifddinas obelisk will give 12 scrolls per pouch.
149

Create XP
1.4
Use XP
1.4
Points
3
Shard return
Bogrog
6 (

150

)
Amlodd
6.6 (

165

)
Level
73
Pouch to scrolls
Pouch
Profit (VoS)

-729


(

-431

)
Swallow Whole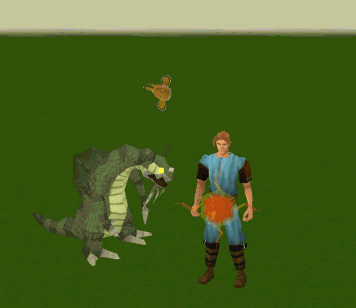 Swallow Whole is the special move of the Bunyip activated by using a Swallow Whole scroll. It allows players to eat an uncooked fish (and gain the correct number of life points corresponding to the fish eaten) if they have the cooking level to cook the fish. For example, using the scroll on a raw shark heals 2000 life points (Considering the fact that the player has 80+ Constitution). Each use of a scroll requires three special move points.
Players killing Waterfiends used to find this scroll useful as they drop Raw Lobsters, Swordfish, and Sharks occasionally, but they are now dropped as noted items instead and cannot be used by Bunyip. Someone killing either Aquanites, Dagannoths, or Mogres can find a Bunyip very useful as well, because they mainly drop raw fish. Note that using the scroll does NOT count as eating. A fast clicker can use Swallow Whole on a fish without skipping an attack in combat. This also means that Adrenaline is not lost when "eating" a raw fish.
Also note, if the player has the exact level needed to cook a fish, it may be helpful just to bring only the raw version of it so that none are wasted by burning. Thus, using the Swallow whole may save money on that part. You do not get Cooking xp for using the Swallow Whole scroll. The Cooking level cannot be assisted.
Disassembly
Regular familiar scrolls

Gold charm
Green charm
Crimson charm
Blue charm
Elder charm
 Siphon self
 Annihilate
Other
 Fetch casket
 Clay deposit
 Ghastly request
Dungeoneering familiar scrolls

Sundering strike
Poisonous shot
Aptitude
Glimmer of light
Snaring wave
Second wind
Community content is available under
CC-BY-SA
unless otherwise noted.