The tainted repriser is the third most powerful repriser available, and requires level 70 Ranged and 70 Defence to equip. It can be created by combining a corruption sigil with a new or fully-repaired karil's crossbow. Like all reprisers, it allows the use of both dual-wielding and shield abilities, and provides a 3% accuracy boost. It also has a 1/15 chance to deflect a hit, reducing it by 50%-100% damage and providing +20% accuracy for the next attack. It can only use bolt racks for ammunition.
The repriser will degrade to a broken state after 100,000 charges of combat. It can be fixed by Repair NPCs, or at an armour stand in a player-owned house. A full repair, without discounts, costs 100,000 coins. Upon death in the wilderness, 25,000 coins will appear on the ground.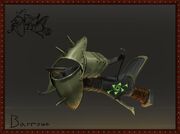 Combat Stats
Requirements
Degrades
70 , 70
100,000 charges
Class
Slot
Ranged
Tier
Type
70
Repriser
Weapons
Main
Off
Damage
-
168
Accuracy
-
1486
Style
Bolts
Range
7
Speed

Fastest (2.4s)

Attributes
Damage reduction
Armour
148
PvM:

0%

PvP:

0%

Life points
0
Style bonuses
Prayer
0

0

0

0

[FAQ] • [doc]
Repair cost
The base repair cost of the Tainted repriser when completely degraded to 0.0% item charge is 100,000 coins. It can be repaired by:
Alternatively, it can be repaired on an armour stand in a player-owned house, or a whetstone device anywhere. This provides a discount of 0.5% per Smithing level (including boosts).
If it is only partially degraded, then the cost of a full repair is multiplied by the percentage of item charge that needs to be repaired to produce the current repair cost.
template = Calculator:Template/Smithing/Armour stand form = repairForm result = repairResult param = level|Smithing level (1-105)|1|int|1-105 param = charge|Item Charge|0.0|number|0.0-100.0 param = cost|cost|100000|hidden|
Calculator
The calculator form will appear here soon. You will need Javascript enabled and cannot be using the mobile version of the Wiki. If you are on a mobile device, you can load the full version of the site by clicking here.
Result
The result will appear here when you submit the form.
Disassembly