Tansymum grows west of Oo'glog. During and after the quest As a First Resort, it can be picked up and lit with a tinderbox to create smouldering tansymum which can be used to lure wimpy birds to capture them with a bird snare. However, burning tansymum also causes diseased kebbits to attack.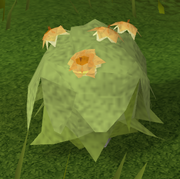 Disassembly
Seeds
Farmed flowers
 Nasturtiums
 Woad leaf
 Limpwurt root
 White lily
 Blue vine blossom
 Green vine blossom
 Red vine blossom
Other
NPCs
Items
Locations
Music
Miscellaneous
Community content is available under
CC-BY-SA
unless otherwise noted.