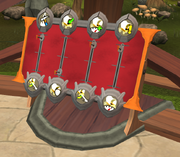 During The Bird and the Beast world event, players could influence their faction's strategy by voting in the Faction Strategy interface. This was done by using the Strategy board on the ground floor. There were no NPCs associated with this vote.
Unlike the other votings, the strategy votes could be changed freely at any time, and as frequently as wished by the player. The strategy with most votes at any time was immediately implemented. If a different strategy became the most voted by players, the strategy changed immediately.
The current strategy was shown in the interface as an icon.
List of strategies
Distance
Strategy
Distance
Description
Stay close to home, or travel far and fortify the route.
Options

Longer expeditions, construct buildings faster.
No opinion.

Shorter expeditions.
Defence
Strategy
Defence
Description
More powerful bodyguards, or caravans with a larger capacity.
Options

Larger caravans that can hold more divine energy.
No opinion.

Tougher bodyguards, to defend the caravans better.
Divination
Strategy
Defence
Description
Find energy as quickly as possible, or search further for higher quality energy and faster gathering.
Options

Longer expeditions, faster gatherers.
No opinion.

Shorter expeditions.
Risk
Strategy
Defence
Description
Increased convoy numbers with higher risk of ambush, or standard convoy frequency with lower risk of ambush.
Options

More convoys, attracting more opponent attention.
No opinion.

Standard convoy frequency, with lower chance of ambush.
NPCs

| | |
| --- | --- |
| Armadyleans | |
| Bandosians | |
| Others | |

Combatants

| | |
| --- | --- |
| Armadyleans | |
| Bandosians | |
| Random events | |

Wisps
Warpriest armour
Tokens
Overrides

| | |
| --- | --- |
| Armadylean | |
| Bandosian | |
| Titles | |

Emotes
Other items
Locations
Community content is available under
CC-BY-SA
unless otherwise noted.