Roblox: DeepWoken - The Loop
Play Sound

The Drop is a livestreamed event via Twitch, hosted by Jagex, where players could win prizes for being the last person standing, or after 50 questions have been answered correctly. Players who had answered the questions incorrectly would be dropped out of the game and placed in the spectator's area, where they could leave the game or continue watching until a winner was decided. Winners could leave via the exit sphere that appeared at the end. Players get into the game via talking to a JMod clone, which appears for 30 seconds.
The event was first livestreamed on 18 January 2015, where two separate games were played on five worlds. The first game had a reward of either Gold Premier Club membership or a Bond if the winner already had subscribed to the Premier Club. The second event that was played had a 1,000,000 entrance fee, was limited to 500 players and contained a prize of up to 500,000,000.
Due to server lag, many of the players that weren't eliminated yet lost their connection, which automatically dropped them from the game, which meant that they could no longer win the prize. This caused players who had lost out to start a riot in world 66 where they demanded to be refunded the entrance fee. A day later, Mod Jon posted on the forums that the entrance fee would indeed be refunded to everyone who participated[1].
Questions
Other versions
Trivia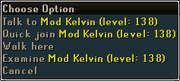 The event was likely inspired by the Channel 4 quiz show titled The Million Pound Drop.
The JMod clones are larger than the players.
The exit spheres are reused from Vorago.
During the initial event, some answers were glitched to display "Answer 1/Answer 2/etc" which caused players to lose regardless of what they picked.
The Drop was created by Mod Chris L in his personal project time.
References