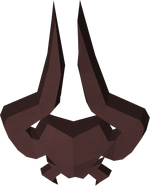 The Founder is the being that created the Dominion Tower on the spot he was born, with the desire to leave his mark on the world. Whilst the tower is a combat based minigame, the Founder himself was not particularly apt at it. The Dominion journals describe him as being a sickly child in his youth. He did come from a family of renowned fighters, and the founder found himself fascinated by them and others who engaged in combat.
The Founder wanted a personality to watch over the tower when he was gone, but something he could trust to uphold his agenda without altering the tower's purpose to their own. The Founder's brother became critically wounded and to save him, The Founder bound him to the tower through use of their mother's magic, creating the Strange face.
Bosses

Class A
Class B
Class C
Class D
Class E
Class F
Class G
Class H
Class X1
Class X2
Miscellaneous
In-fight

Orbs
Items
Companions
Music

Dominion Lobby
Dominion Tower
Community content is available under
CC-BY-SA
unless otherwise noted.