Walkthrough
Start point

Speak to Ali Mirza in the Al Kharid palace
Member requirement
Members only
Official difficulty
Novice
Official length
Short to Medium
Requirements
Skill requirements are not boostable unless marked with a [B] for boostable.

Quests:

Items required
Items from the tool belt are not listed unless they do not work or are not automatically added.
Enemies to defeat
New trade deal
Talk to Emir Ali Mirza in Al Kharid palace to begin quest.
Go upstairs and talk to Osman.
Climb the northern stairs to the roof and talk to Grand Vizier Hassan.
Dismiss any follower and unequip the item in your main and off-hand slots. Talk to Hassan.
Talk to Hassan while on the carpet to teleport to Menaphos.
Follow Hassan into the city.
The streets of Menaphos
Left-click Enter the shifting tombs nearby and speak to the Jack of Spades.
Exit the shifting tombs.
Referencing above locations, return the four stolen items to their respective districts (right click shifting tombs to quick travel).
Return to Hassan.
Quest complete!
Rewards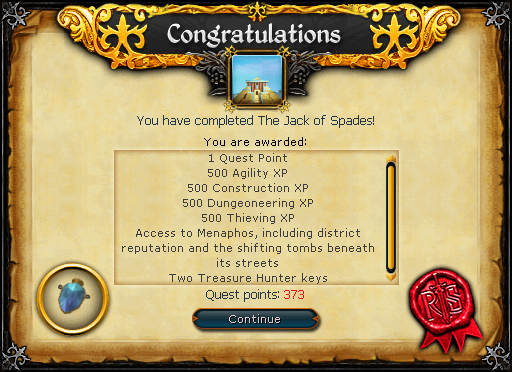 Music unlocked
Community content is available under
CC-BY-SA
unless otherwise noted.