The Needle Skips is a novice quest that involves a murder mystery surrounding a power artifact. [1] Mod Krista was working on the quest in her TAPP time prior to her departure from Jagex.[2] [3]
Quest overview
| | |
| --- | --- |
| Start point | Investigate the needle on the hill west of Piscatoris |
| Member requirement | Members only |
| Official difficulty | Novice |
| Official length | Short |
| Requirements | Skill requirements are not boostable unless marked with a [B] for boostable. |
| Items required | Items from the tool belt are not listed unless they do not work or are not automatically added. |
| Recommended | Four empty inventory slots |
| Enemies to defeat | |
Prologue
To begin, search The Needle in the north-western section of Piscatoris. This will result in a series of cutscenes and dialogues that gives you increasing amounts of lore on The Needle, Gail, and others.
Note: It is only necessary to enter the final word of each chapter to complete the quest, but all words are required for full rewards.
Chapter One:
30th
Abandoned
Archer
Birthday
Blue
Books
Brand
Cart
Doctor
Dying
Elven
Fireplace
Friends
Gail
Guthix
Hannibus
Joss
Love
Megan
Monsters
Misthalin
Plague
Poetry
Prayers
Saradomin
Scar
Sea Trolls
Sing
Sloop
Temper
Tower
Wishes
Wizards
Wordsworth
Chapter Two:
Baba
Birthday
Books
Bored
Cloak
Candles
Danced
Doubt
Dumbo
Demon
Diary
Friends
Gail
Gravestone
Hannibus
Lies
Lost Grove
Metum
Pain
Potion
Return
Saradomin
Scar
Shade
Sloop
Thok
Varrock
Chapter Three:
Book
Buckthorn
Disease
Energy
Evil
Faint
Fate
Gail
Happy
Ill
Knife
Loop
Megan
Metum
Needle
Primrose
Return
Story
Scar
Thing
Wenla
Epilogue
Going back to the Needle, which will take you to the present. You must find a cure for Gail, Megan, and Primrose. Near the house, pick berries and leaves from the Buckthorn bush, and grind them up. Use Buckthorn Smellingsalts on Primrose, upstairs. Talk to Megan, and speak the demon Metum's name to her to free her. Next, use the Bottle of Crushed Berries on the stove to create buckthorn salve, and use this on Gail. She asks you to speak to Megan.
After all the dialogue, go to the Needle, and read the note. Give this note to Megan to finish the quest.
Rewards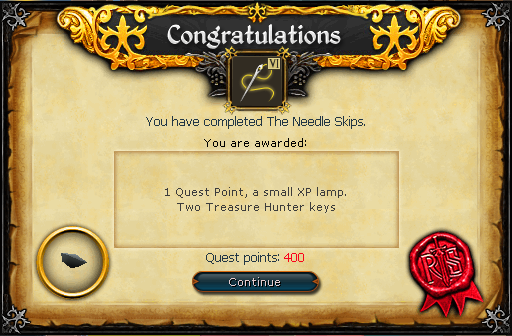 Additional rewards/activities
For full completion, players can find all of the words in each chapter. After the quest is completed, players can replay chapters by searching the Needle. To get the additional lamps you need to speak with Megan out of the quest replays.

Music unlocked
References
NPCs
Items
 Buckthorn leaf detail
 Buckthorn berry detail
 Buckthorn smelling salts detail
 Bottle of crushed berries detail
 Buckthorn salve detail
Music
Miscellaneous
Quick guide • Transcript