The Shaikahan
Release
14 September 2004 (Update)
Members
Yes
Examine
A huge beast, resembling in some ways a lion, but mostly a twisted nightmare.
Combat info
Level
LP
XP
XP
70
3,500
166.8
55
Equipment XP (2H/MH & Armour/OH)
10 / 6 / 3
Aggressive
Poisonous
Offensive
Max hit
200
0
0
0
Style
Speed

4 ticks (2.4s)

Combat levels
Defensive
Armour
Weakness
850
50
Affinities
90
55
45
65
Immunities
? (edit)
[FAQ] • [doc]
The Shaikahan is a lion-like creature which prowls the eastern jungle of Karamja (usually south of fairy ring code D K P) and is involved in the Tai Bwo Wannai Trio quest, where the player must help Tamayu defeat it. The Shaikahan is immune to normal damage and can only be killed via poison, dreadnips, Summoning familiars, Deflect Curses or a ring of recoil. These methods are the only way to damage the Shaikahan before and after the quest is complete. It has a unique drop of Shaikahan bones, which give 25 Prayer experience when buried.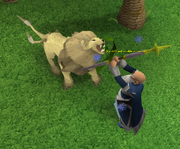 Trivia
Community content is available under
CC-BY-SA
unless otherwise noted.