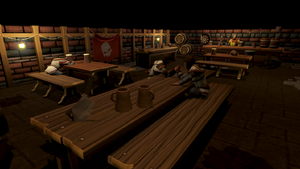 The Skullery is a bar in the cellar of a building in Draynor Village, where a gang called The Skulls have taken their residence. It is not their official headquarters, but Khnum says it is their hangout place where they can "unwind". It plays a role in the quest Stolen Hearts.
Inside there are three skull mercenaries, a bouncer, and Khnum (only during Stolen Hearts). Khnum is the only interactive NPC here, and furthermore this place has no use besides the quest.
Trivia
Asgarnia
Kandarin
Karamja
Kharidian Desert
Misthalin
The Skullery
Morytania
Fremennik Province
Feldip Hills
Wilderness
Troll Country & The North
Keldagrim
Tirannwn & Galarpos
Elite dungeons
Others
Community content is available under
CC-BY-SA
unless otherwise noted.