Template:BetaTemplate:RSC page
This article is about the thieving skill. For information on training thieving, see
thieving training
.
Thieving
is a
members-only
skill
that allows players to obtain
coins
and items by stealing from
market stalls
,
chests
, or by pickpocketing
non-player characters
(NPCs). This skill also allows players to unlock
doors
and disarm traps.
The current minimum requirement to be ranked (at approximately rank 859,929) on the hiscores for Thieving is level 15. As of 16 August 2018, there are 115,999 current members that have achieved level 99 in Thieving.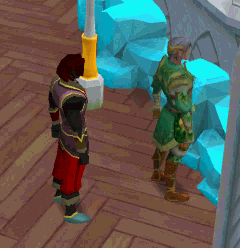 Pickpocketing
This is the act of walking up to an NPC and right-clicking them, then selecting Pickpocket. In the case of a Master Farmer, only a single left click is required to attempt to pick their pockets. If successful, you will gain Thieving experience and possibly coins or various items. The higher the thieving level, the more NPCs the player is able to pickpocket from.
However, it is possible for the NPC to notice a pickpocket, in which case the NPC will yell "What do you think you're doing?", or a Master Farmer will say "Cor blimey, mate! What are ye doing in me pockets?" and will stun you for a few seconds and cause 10-50 life points (the higher the NPC's level, the harder they hit). This damage is not classified as melee damage, and Protect from Melee/Deflect Melee does not prevent the damage as such. Because of the possibility for damage, it is recommended that players bring healing familiars, enhanced excalibur, regen bracelet, or food such as cakes that can be stolen from cake stalls. The best food to bring is a basket of strawberries, because although you need to consume it in several bites, overall it heals more than rocktails. This is excellent for thieving as NPCs hit small amounts of damage. You can successfully pickpocket an NPC even if he or she is looking right at you, but if you pickpocket from the sides or from behind, the chances of getting caught seem to be slightly reduced although this has finally been proven to be only rumor.
During a study when wearing an aura, gloves of silence, and carefully getting behind each NPC, a player's success rate is confirmed to be based off of how many levels higher then the required level of the NPC is. For example: Pickpocketing a normal "Man" or "Woman" NPC at level 1 can be tedious. However, one may notice that at level 10 thieving, the chances are lower of being stunned, this is because the player has 10.11% chance of being successful.
This is because each level in thieving gives about 1.011% chance of success when pickpocketing from a lower tiered NPC. When trying to pickpocket from a NPC that is of same level, one may notice that the stuns become more frequent and often. If watched carefully, whether beside, behind, or in front, the NPC can still have a high percentage of stunning a player due to the rate of success being at it's bare minimum (1.011%) for that level.
In more simpler terms. Stealing from a level 1 NPC at level 10 Thieving gives a 10% chance success rate. Stealing from a level 65 NPC at level 75 would also give a 10% success rate. stealing from a level 65 NPC at level 85 would give a 20% success rate. So every 1 level from the NPC you're trying to pickpocket from will give a 1.011% chance of success from that NPC's level.
Also, if a player attempts to pickpocket an attackable NPC just before its death, the player thieving it will get a message saying: "Too late; they're dead."
The equipment that a player wears does not affect the success rate, aside from an Ardougne cloak (although the Ardougne cloak 1 and 2 enhance pickpocketing only in Ardougne), or Gloves of silence. However, equipping a Snowball, a salamander without the tar needed, or a (cross)bow without projectiles makes it impossible to accidentally attack an NPC.
To help increase the success rate, players with 62 or higher Summoning may choose to summon an Abyssal lurker familiar, and use Abyssal stealth scrolls, which provide a +4 visible boost to Thieving.
You can also use the defensive ability Freedom to remove the stun caused by failing pickpocketing.
Thievable non-player characters
Levels for stealing multiples of normal loot all follow these formulae ([level] stands for the base level required to steal from the NPC):
Double Loot = [level]+10 thieving and [level] agility
Triple Loot = [level]+20 thieving and [level]+10 agility
Quadruple Loot = [level]+30 thieving and [level]+20 agility
After completing the Lost Her Marbles miniquest from Buyers and Cellars, the loot from NPC's level 40 and below is increased. Men/Women have 20 coin drops, Farmers improve to several low level seed types (cabbage, marigold, tomato) and Master Farmers appear to have an improved high-level seed rate.
In addition to the standard thievable NPCs, the workers involved in the Tower of Life quest may also be pickpocketed by players with level 1 thieving. Successfully pickpocketing a worker give the player a Triangle sandwich and 8 thieving experience. The workers are: 'Black-eye', 'Gummy', 'No fingers', and 'The Guns'. Their supervisor, Bonafido, cannot be pickpocketed. The workers can be pickpocketed regardless if the quest is finished or not.
Stalls
There are a large number of stalls throughout RuneScape, and many of them are in the Ardougne Market. Stealing from stalls is the left-click option.
When nearby guards or the stall owner sees someone thieving they may attack, or prevent the player from stealing. Because of this, it is recommended that the player thieve from a side of a stall that is well hidden from the owner and guards.
When the item is stolen, it will take a short period of time to respawn. However, the higher thieving level it takes to steal from a stall, the longer its respawn time will be. It should be noted you may not buy from or sell to the stall owner for about 20 minutes after the last theft from their stall type (except for the market stalls on Ape Atoll), otherwise, the merchant will shout for the guards. If a player carries the Vial of stench (a), from the caper A Guild of Our Own, the stall owner will not recognize the player having stolen from them and will then buy most stolen goods back from the player without the 20 minute wait.
In order to avoid guards from attacking while stealing from stalls, a convenient method is to allow the guard to attack, then enter the nearest building, then take one step outside and close the door, thus effectively trapping the guard.
Thievable stalls
Note: In Keldagrim, stalls often differ in respawn time and their experience given. The gem and silver stalls respawn twice as fast, but yield half the experience. The bakery stall, however, respawns twice as slow, but gives twice the experience.
Chests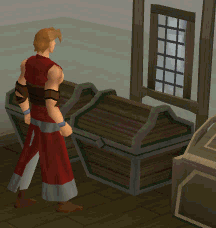 There are chests scattered throughout RuneScape, and some of them have traps. To disarm them using the Thieving skill, right-click on the chest and select "Search for traps Chest" to allow for disarmament of traps and obtaining the items inside.
After a player thieves from a chest, there is a slight respawn time. Some chests such as the Nature-rune chest change colour to indicate whether it can be looted again.
Thievable chests
Because the Dorgesh-Kaan Rich Chest takes so long to respawn, some players will find a house containing two of these chests and loot them. Then they will switch worlds and repeat the process, giving 1,300 experience per world visited. This is a low risk and simple way to get experience, but other methods like Pyramid Plunder give faster experience.
Doors
Certain doors in RuneScape cannot be opened by players unless the lock is picked. In order to pick a lock, right-click on a door and select "Pick Lock". If the player has the required thieving level, the door will then be opened. Some doors will require a lockpick to successfully pick the lock.
Pickable doors
Blackjacking
Other
Agility benefits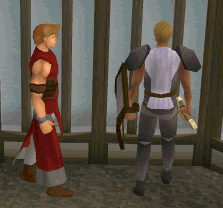 As of the 19 January 2010 update, adventurers with high Agility and Thieving levels now stand a chance of pickpocketing double, triple or even quadruple the usual amount of loot from unsuspecting targets. When this happens, an animation with the player rapidly alternating his hands while pickpocketing the victim will be shown. A grab will be made for each bonus looting one does, and the hands will get a "sparkle" applied to them. Additional experience is NOT gained acquiring these random influxes of loot, only the standard amount of experience for a single pickpocket.
Temporary boosts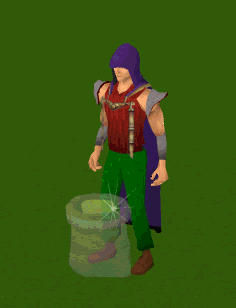 Random events (Discontinued)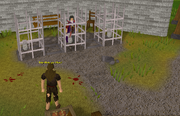 There were two different random events specific to thieving, with one of them being removed at a much earlier date.
Poison Gas - At one point in time, it was possible to activate a poison gas trap upon opening a chest. To avoid this, players would have to merely exit the room.
Pillory - It is possible that your character will be teleported to a pillory in Yanille, Varrock or Seer's Village, where shapes must be matched in order to pick the lock and return to where your character was thieving. However, players can get it even when they are not thieving. It is possible for players to throw rotten tomatoes at the trapped player, although it won't do any damage. The rotten tomatoes can be bought for 1gp each and can't be bought while you are currently in the cage.

This replaced the Watchman, who would attack players who were thieving when the event occurred. He had the same level as all other hostile random events. He was replaced due to complaints that he would kill the player too quickly, as many would not wear armour while pickpocketing.
Thieving minigames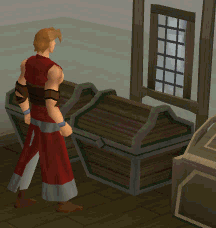 There are a number of minigames that are based on, or include Thieving:
Strange rock
Although the examine text of the Thieving strange rock says "borrowed from a pocket" you can obtain it by picking pockets, stealing from stalls, and stealing from chests. They are used to construct the Dahmaroc statue in the Shattered Heart Distraction and Diversion.
Thieves' Guild
The Thieves' Guild is found under a trapdoor north of Lumbridge. Available after completing Buyers and Cellars, players could additionally do capers to expand the guild. There are coshing volunteers and an advanced pickpocketing trainer (despite the title) available for blackjacking (a rubber blackjack, bought from Dodgy Derek's Dirty Deals in the guild, is required) and pickpocketing volunteers and a pickpocketing trainer for pickpocketing, as well as wall safes, locked doors and chests.
All thieving done inside the guild would not yield any material gain. Players instead gain hanky points that could be traded in for more experience. Negligible damage is done when failing to pickpocket or knock out NPCs, and the trap under wall safes consists of rubber spikes.
Trivia
The door in Port Sarim's jail can be picked from the inside. The door is available to all players. Any player can pick the door by talking to Shantay. This is done by telling him you are an outlaw. Shantay will send you to his jail, and when the player refuses to pay the fee to leave the jail he/she will be sent to Port Sarim jail.
When you get a level-up on Thieving under level 50, the music sounds like a part of the Mission Impossible theme.
When you complete While Guthix Sleeps, and you use one of your 100k xp on thieving you get the message: "You feel your respect for others' property slipping away." The same message appears when you receive Thieving experience from the Tears of Guthix D&D.
If you get stunned while pickpocketing, even if your character isn't wielding a shield, your character does the defending animation as if the character was equipping a shield.
A player with 95 Thieving, wearing gloves of silence and an Ardougne cloak 3, will never fail to pickpocket certain NPC's such as Master Farmers and Knights of Ardougne.
If a player attacks an NPC, quickly pickpockets them and fail, the NPC will do stun and damage as usual but becomes non-aggressive.
Since thievable NPCs perform their attack animations when they stun a player after catching them stealing, gnomes with bows stun players by firing an arrow at them.
See also
Combat
Gathering
Artisan
Support
Elite
Invention
Former skills