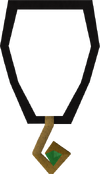 The third-age amulet is a members-only piece of jewellery that is part of the Third age mage set. To wear the amulet the player needs at least 65 Defence and 65 Magic. To obtain a third age amulet the player can either complete a Level 3 Treasure trail or trade with another player.
It was long thought that the chances of obtaining a piece of third-age armour was of about 1 in 10,000 (according to Paul Gower), and in 2010 Mod Maylea stated that the odds are lower than 1 in 100,000 [1]. However, a livestream with Mod Simon and James revealed the mechanics of Treasure Trail rewards in detail[2], meaning the actual chances could be calculated: approximately 1 in 16,896 per item roll for any of the 12 parts of third-age equipment, or approximately 1 in 202,752 for a specific part, per item roll - with an average of 5 item rewards per Trail, this gives approximately 1 in 3,380 for any part, or 1 in 40,551 for a specific part, per Trail completed. For a more detailed breakdown of drop mechanics and calculations, see Treasure Trails/Rewards#Hard.
Combat Stats
Requirements
65 65
Class
Slot
Magic
Tier
None
Weapons
Main
Off
Damage
-
-
Accuracy
-
-
Style
-
Range
-
Attributes
Damage reduction
Armour
0
PvM:

0%

PvP:

0%

Life points
0
Style bonuses
Prayer
0

0

0

32

[FAQ] • [doc]
Disassembly
Trivia
The third-age amulet is the only third-age item to be worn in the necklace slot and is the only piece of jewellery associated with the third-age armour sets.
References
Unstrung
Standard
Enchanted
Non-standard
Translation
Cosmetic
Alchemist's amulets
Others
Treasure Trails Magic armour

Wizard
Enchanted
 Hat
 Top
 Robe
Third-age
Second-Age
 Mask
 Robe top
 Robe bottom
Community content is available under
CC-BY-SA
unless otherwise noted.