The TokHaar-Kal-Ket (translated as Sacred-Rock of the victorious warrior) is a high-level melee cape obtained by completing the Fight Kiln. It is one of two rewards the player may choose, the other being an uncut onyx. The TokHaar-Kal-Ket can be stored on the cape rack in a costume room of a player-owned house.
Completion of The Elder Kiln quest is required to play the minigame and earn the TokHaar-Kal-Ket. A fire cape must be sacrificed to be able to play the minigame; this requirement is a one-off. To earn this cape, most of damage in the kiln must be dealt with melee.
The TokHaar-Kal-Ket serves as a stronger version of its predecessor, the fire cape. It currently offers the second largest melee strength bonus of any cape, beaten only by the Completionist Cape. Additionally, the TokHaar-Kal-Ket can be worn when fighting Ice Strykewyrms to deal double damage with fire spells. The cape also adds damage per hit, and more if using fire spells.
The TokHaar-Kal-Ket, along with the TokHaar-Kal-Xil and TokHaar-Kal-Mej, can be given to TzHaar-Mej-Jeh to unlock the Enhanced fire cape override.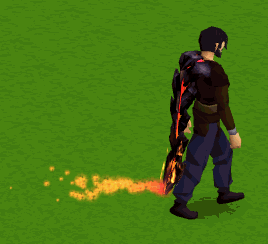 Combat Stats
Requirements
None
Class
Slot
Melee
Tier
70
Weapons
Main
Off
Damage
-
-
Accuracy
-
-
Style
-
Range
-
Attributes
Damage reduction
Armour
44
PvM:

0%

PvP:

0%

Life points
0
Style bonuses
Prayer
2

31

0

0

[FAQ] • [doc]
Disassembly
Comparison with other capes
Name
Requirements
Cost
Bonuses
Notes
Completionist cape
See notes

5,000,000

65
300
6
43
43
43

Combines the abilities of the following capes/items:
Requirements:

Max cape
See notes

2,673,000

44
5
26
26
26

Can hold and use up to three Capes of Accomplishment and use their perks.
Requires being at least level 99 in all skills.

Superior reefwalker's cape
85
100
65
300
14
14
14

The superior reefwalker's cape lasts for 100,000 charges of combat (a minimum of around 17 hours) before degrading and requiring repair. It can be repaired by a Repair NPC or at a player-owned house armour stand for coins, or at the Port workbench using koi scales. A full recharge costs:
Collecting all scroll pieces for this cape is a Completionist cape requirement.

Kiln cape:
See notes
None
44
2
31 or or

Requires the completion of the Fight Kiln with the majority of your damage being done with the style of the cape that you want.

Expert cape of Accomplishment:
See notes
Initially created from skill shards

99,000 (reclaim)

33
2
21
21
21

Requires level 99 in all skills of the respective skill type of the cape, and collection and combination of the relevant skill shards.
Reclaimable from Diango
Can hold and use up to two Capes of Accomplishment of the respective skill type and use their perks.

Master cape of Accomplishment
See notes

120,000

33
2
21
21
21

Requires level 120 in the respective skill of the cape (or completion of all quests and additional lore-related requirements for the Master quest cape).
Each cape provides a perk that relates to the skill:
Virtual level 120 capes provide no additional perks beyond those of a basic Cape of Accomplishment
Useful capes for PvM include:

Cape of Accomplishment
See notes

99,000

33
2
21
21
21

Requires level 99 in the respective skill of the cape (or completion of all quests for the Quest point cape).
Each cape provides a perk that relates to the skill:
Useful capes for PvM include: