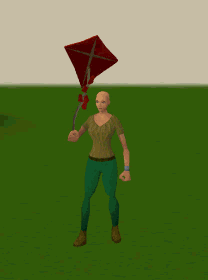 The toy kite can be bought from Diango in Draynor Village for 100 coins. The toy kite was released as an April Fools joke by Jagex on 1 April 2008, toying with their players' anticipation of getting a Dragon kiteshield; similarly to the Dragon plate and Toy Horsey April Fool's pranks from previous years. The name was changed from Dragon kite to Toy kite the next day.
According to Diango, a huge shipment of dragon kites was ordered exactly one year ago but was delayed, leading him to believe that they were never going to arrive and that someone was playing a joke on him. He also explains, when asked how he got so many, that there was an offer of 'Buy 1, Get 1000 free' which Diango felt was too good of an offer to pass up. He refers to the price as a bargain and when purchased, cautions players not to "get carried away!" On 9 November, toy kites were prevented from floating away while playing Vinesweeper.
Combat Stats
Requirements
None
Class
Slot
Melee
Tier
5
Weapons
Main
Off
Damage
114
-
Accuracy
150
-
Style
Crush
Range
1
Speed

Average (3.6s)

Attributes
Damage reduction
Armour
0
PvM:

0%

PvP:

0%

Life points
0
Style bonuses
Prayer
0

0

0

0

[FAQ] • [doc]
Store locations
This list was created dynamically. For help, see the FAQ.
To force an update of this list, click here.
Disassembly
Trivia
Upon its release, the Toy Kite was named "Dragon Kite". This was changed by Jagex to the current name because players would sometimes attempt to scam other players by claiming that the Toy Kite was a Dragon Kiteshield.
The symbol on the kite resembled the old symbol on the Dragon sq Shield.
2004
2005
2007
2008
Toy kite
2009
2010
2011
2012
2013
2014
2015
2016
2017
2018
Community content is available under
CC-BY-SA
unless otherwise noted.