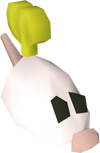 A wound toy mouse is a wound up toy mouse, a clockwork item. If a player releases it and catches it before it stops moving, they will gain 3 Agility experience.
Cats can chase these clockwork mice. If they catch them they will eat them and the clockwork mouse will be lost. In addition clockwork cats can chase clockwork mice, just like regular cats chase rats.
Drop sources
This list was created dynamically. For help, see the FAQ.
To force an update of this list, click here.
For an exhaustive list of all known sources for this item, see here.
Disassembly
Trivia
Despite being a members item, members used to be able to use it on a non-members server. However, this is no longer possible.
Clockwork mice were formerly a great source of Agility experience since players would gain 15 experience points for trying to pick up a mouse, whether they caught it or not. Since players with low Agility levels would frequently fail to catch the mouse, they could repetitively attempt to pick them up and gain very fast experience. However, an update in February 2008 greatly reduced the experience gained.
Small
Giant
Miscellaneous
Items
Community content is available under
CC-BY-SA
unless otherwise noted.