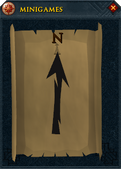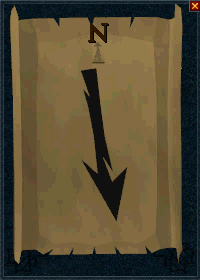 A compass clue can be part of an elite treasure trail. Compass clues were added to the game as part of the Treasure Trail update on 4 August 2010.
When a compass clue is clicked on it will display an interface with an arrow that points in the direction of a spot that the player must locate. The arrow only shows the direction of the required location, and not the distance to it. Therefore, the most common method for completing compass clues effectively and efficiently is by triangulation. This is done by teleporting around RuneScape to gain an idea of where the location might be e.g. teleport to Taverley; if the compass points west, the player should go to a location to the west of Taverley; if the compass points east, the player should go a location to the east of Taverley. Additionally a player can tell if they are near to or from the correct location based on how fast the arrow changes direction (if the player is close to the right spot the arrow will change the direction in which it is pointing more quickly as the player moves around). Once the player has established that they are close to the correct location, they should move in the direction indicated by the compass.
When the player is standing at the correct location, the compass' arrow will change to an 'X' symbol. When standing on the spot shown by the X the player can dig to receive their next clue or casket. Digging may spawn a Guthix wizard for elite clues or a cabbagemancer for master clues, however players can avoid this by using a meerkat familar's fetch casket special move to retrieve the next clue or casket.
Locations
The locations in this guide are grouped by region. The following map may also be useful: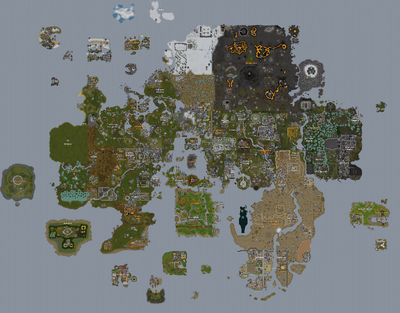 Asgarnia
| Possible locations | Image |
| --- | --- |
| In the centre of Goblin Village. | |
| Possible locations | Image |
| --- | --- |
| Just north-west of Daemonheim Castle. | |
| South-east of Daemonheim Castle. | |
| South of Daemonheim Castle. Just east of the steps south of the Rewards Trader. | |
| Eastern part of Daemonheim, north of the spot where a ferry can be taken to Al Kharid. | |
| South-eastern part of Daemonheim, just north of the entrance to the Daemonheim resource dungeon. One pace south of the location pictured. | |
| South-eastern part of Daemonheim, north-west of the entrance to the Daemonheim resource dungeon. Three paces north-west of the location above. | |
| On the southern coast of Daemonheim. | |
| North-east of the gate between Daemonheim and the Wilderness. | |
| West of a tent. | |
| Just south-west of Daemonheim Castle, two steps west and two steps north of the south-western corner of the frozen auto-grouping chamber. | |
| Possible locations | Image |
| --- | --- |
| Up the first stairway, by the statue near the sotapanna. | |
| East of Ling on the beach, three paces east of the south-eastern corner of the campfire. | |
| Possible locations | Image |
| --- | --- |
| On the beach where the salty crabletines are located, in between four palm trees. | |
| On Cyclosis, right next to Odd Billy. | |
| In the graveyard, east of the dead moai | |
| On the south west beach | |
| Possible locations | Image |
| --- | --- |
| At the stairs on Goshima | |
| At the trees on Goshima | |
| Next to dead druid at the bottom of the main pier (South). | |
| North of the stairs, two paces north-east of the upper part of the corpse. | |
| Possible locations | Image |
| --- | --- |
| North of the island on the 1st island of The Islands That Once Were Turtles | |
| North of the Tortle portal on the 2nd island of The Islands That Once Were Turtles. | |
| Southwest of the boulder on the 3rd island of The Islands That Once Were Turtles. | |
| Possible locations | Image |
| --- | --- |
| South east of the dock stairs. | |
| In the bamboo forest north of the junction between the temple and the Rumberry bush field | |
| Directly west of Azalea Oakheart and the gnomecopter. | |
| Possible locations | Image |
| --- | --- |
| North of Waiko moai. Three paces west of the middle of the bench under the cherry blossom. | |
| On the beach north of Rosie (supplies). Right east of the green starfish. | |
| East of Khan's house. | |
| Southern beach, five paces east and three north of the green starfish. | |
| Possible locations | Image |
| --- | --- |
| West of Ted and his campfire on Whale's Maw. | |
| In the shipwreck north of the tortle hunting spot. Two paces south-east of the entrance in the stern. | |
| East of the shipwreck on the far west of the island, west of the tortle hunting spot. | |
| South-west of the khan's house, just west of the moai stump. | |
| South of the pool on the grass. | |
Feldip Hills
| Possible locations | Image |
| --- | --- |
| South of the Castle Wars lobby. | |
| South of Castle Wars, along the southern coastline. South-east of the group of three islands. | |
| South of Castle Wars, south-west of the group of three islands. North-east of fairy ring (code BKP). | |
| South-west of Castle Wars, on the south-western coastline. | |
| South-west of Castle Wars, in the Chompy Bird Hunting area. | |
| North of the entrance to Castle Wars. | |
Feldip
Northern Feldip Hills
| Possible locations | Image |
| --- | --- |
| South of Jiggig and south-west of Gu'Tanoth. | |
| South-west of the gnome glider. | |
| East of the fairy ring (code AKS). | |
| East of Gu'Tanoth. | |
| South of Gu'Tanoth. | |
| East of Gu'Tanoth, by the iron ore rocks. | |
| East of Rantz. | |
| Near the western shoreline, four paces east and two paces north of the northern part of the ogre standard. | |
| South-west of the ogre boat, between the southern two blue flowers near the shoreline. | |
| Possible locations | Image |
| --- | --- |
| North of Oo'glog, at the hunter area. | |
| North of Oo'glog's north wall, east of the Oo'glog lodestone. | |
| West of the entrance to Oo'glog. | |
| In the south-east corner of Oo'glog, south-east of the robust glass machine. | |
| Just south of Oo'glog's south wall, south of the general store. | |
| South of the Monastery of Ascension. | |
| Right north-east of Oo'glog, two paces west of the tip of the small peninsula. | |
Fremennik area
| Possible locations | Image |
| --- | --- |
| Just south of the door to the Lighthouse. | |
| East of the lighthouse. | |
| East of the lighthouse, north-east of the crystal tree. | |
| Possible locations | Image |
| --- | --- |
| In the northern part of Rellekka, just north of the sand pit in the area of hobgoblins. | |
| In the northern part of Rellekka, just north of the mining site in the area of rock crabs. | |
| In the south-western part of Rellekka. South-west of the building containing a furnace and spinning wheel. | |
| South-east of the Rellekka POH portal. | |
| East of Rellekka and north-west of the Fremennik lodestone. | |
| East of Rellekka and west of the entrance to the Mountain Camp. | |
| At the entrance to the Mountain Camp. | |
| South-west of the Mountain Camp and the swaying tree. | |
| South-east of the sparkling wisp colony, two paces north and one pace west of the eastern set of bullrushes by the shore. | |
| In the middle of the marketplace. | |
| North of Lalli. | |
| Outside of Rellekka in the south-west. North-east of the path to the Lighthouse. | |
| Southeastern Rellekka, just east of the house with Freidir and Inga. | |
| South of the entrance to Rellekka, north of the POH portal. Three paces south and five paces west of the small obelisk. | |
Trollweiss
| Possible locations | Image |
| --- | --- |
| On the path to the Trollweiss Hunter Area. | |
| Within the Trollweiss Hunter Area. | |
| On the western side of the Trollweiss Hunter Area. | |
| 2 steps north of the Ice sculpture near Erjolf's cave. | |
Kandarin, Piscatoris and Gnome Stronghold
| Possible locations | Image |
| --- | --- |
| North of East Ardougne. One pace west of the deposit box in Manor Farm. | |
| In East Ardougne, just west of Elena's house. | |
| South-east of East Ardougne. South-east of Ardougne Zoo and north-west of the Necromancer's Tower. | |
| South of East Ardougne. East of the Ardougne Monastery and south-west of Tower of Life. | |
| North-east of West Ardougne and south-east of the Fishing Guild. Near the moss giants, plague sheep, and warrior women. | |
| North-east of West Ardougne and south-east of the Fishing Guild. In the area with plague sheep. | |
| North-east of West Ardougne and northwest of the Fishing Guild. Two steps northeast of the north-eastern tile of the base of the oak tree that lies between two other oak trees near the coastline. | |
| North-west of West Ardougne, in the enclosure with many Apple Trees. Two paces north of the Barrel Tap. | |
| North of West Ardougne. North-east of the Combat Training Camp. | |
| North of West Ardougne. North-east of the Combat Training Camp. | |
| North of West Ardougne. South of the Combat Training Camp. | |
| South of West Ardougne's south wall, south of the cemetery. | |
| South of West Ardougne's south wall, south-west of the cemetery. | |
| South of West Ardougne's south wall, by the general store. | |
| Just north of West Ardougne's north wall. | |
| South of West Ardougne, on the gnomes' side on the Khazard Battlefield, four steps south and one step east of the easternmost flag. | |
| South-west of West Ardougne. In the mining area just north-east of the Ourania Runecrafting Altar entrance. One step west of the location pictured. | |
| South-west of West Ardougne, on the Khazard Battlefield. | |
| South-west of West Ardougne. In the graveyard just south of the entrance to the Ourania Runecrafting Altar entrance. | |
| South-west of West Ardougne, south of the Observatory. | |
| South-west of West Ardougne. Inside some ruins east of the Observatory. | |
| North-east of the Legends' Guild. | |
| North of the Legends' Guild. | |
| West of the entrance of the Legends' Guild. | |
| Just south of The Poison Arrow pub. | |
| East of the Carnillean mansion south of Ardougne Castle. | |
| East Ardougne market, in the house with a cooking range, two steps south of the central bookcase. | |
| East Ardougne, north of the Servants' Guild. Two steps north of the inside corner of the hedge surrounding the guild. | |
| South-east of the Clock Tower and north-west of the Ardougne Monastery. | |
| South of the Ardougne Zoo, at the crossroad. | |
| Possible locations | Image |
| --- | --- |
| Just south of Catherby, on the island with Obelisk of Water which can only be accessed through Taverley Dungeon. | |
| South-east of Hickton's Archery Emporium. | |
| South-west of the bank and candle shop. North-east of the docks where Arhein and the charter ship are located. | |
| West of Catherby, in the field of beehives. | |
| At the end of the White Wolf Mountain area, northeast of the Catherby lodestone. Three paces south of the middle of the evergreen southwest of the cave into the mountain. | |
| North of Catherby farming patches. | |
| Near the cave entrance north of Catherby, on top of the White Wolf Mountain | |
| Possible locations | Image |
| --- | --- |
| Outside the Piscatoris Fishing Colony, west of the entrance. | |
| Just west of the Piscatoris Fishing Colony, outside the colony. | |
| Just north-east of the Phoenix Lair. North-west of the fairy ring (code AKQ). | |
| In the Piscatoris Hunter Area, south-east of the fairy ring (code AKQ) and east of the two rare tree minimap icons. | |
| On the tip of the peninsula with airut in the north-western part of the Piscatoris Hunter Area, near the stone with the depiction of Tuska. | |
| West of the falconry area. | |
| South-west of the falconry area. | |
| South-east of the falconry area. One pace east of the location pictured. | |
| North-east of Eagles' Peak and south-west of the falconry area. | |
| East of the falconry area. One step northeast of the second right-angled concave corner in the fence, counting from the north. | |
| On the northern side of Eagles' Peak, at the foot of the mountain. | |
| North-west of the musician. | |
| North of the falconry area, near the coast. | |
Port Khazard
| Possible locations | Image |
| --- | --- |
| Just south of Sinclair Mansion. | |
| North-east of Sinclair Mansion. | |
| North-west of Sinclair Mansion. | |
| West of Sinclair Mansion. | |
| North of Seers' Village and west of Sinclair Mansion. South-west of the first bridge on the path from Seers' Village to Rellekka. | |
| West of Sinclair Mansion. West of the first bridge on the path from Seers' Village to Rellekka and north of the Seers' Village hops patch. | |
| West of Sinclair Mansion. West of the first bridge on the path from Seers' Village to Rellekka and north-east of the Seers' Village hops patch, in the middle of the Maple Trees south of the path. Two paces south of the northernmost of the fungus. | |
| North of Seers' Village and south of Rellekka. Just south of the second bridge on the path from Seers' Village to Rellekka, where the Council workman and musician are located. | |
| Possible locations | Image |
| --- | --- |
| Just south of the church in Witchaven. | |
| South of the mine north of Witchaven. | |
| Possible locations | Image |
| --- | --- |
| North of Yanille. | |
| South of Yanille. | |
| East of the sandpit and POH portal. | |
| East of Yanille. North of Hazelmere's island. | |
| North-west of Yanille lodestone. | |
| South of the house with the anvil. | |
| Possible locations | Image |
| --- | --- |
| West of the compost mound at Fight Arena. | |
| South-west of the Gnome Maze, near the broken walls. | |
| West of Gnome Maze, eight steps east and four steps south of the southeastern corner of the fruit tree patch. | |
Karamja
| Possible locations | Image |
| --- | --- |
| Just east of the spirit tree. | |
| North of the Brimhaven Dungeon entrance. | |
| South-west of the Brimhaven Dungeon entrance. Two paces north-east of the north-eastern corner of the bush on the beach. | |
| East of the Brimhaven mine. | |
| South-east corner of Moss Giant Island. | |
| Directly south of the port. | |
| Just east of Dead Man's Chest, two steps north of the western side of the bench. | |
| On the beach in the south-western part of the town. Four paces north and one pace west of the fire remains near Lubufu. | |
| Possible locations | Image |
| --- | --- |
| In the centre of the village. | |
| West of the village. | |
| South of the village, west of the karambwanji lake. | |
| South-east of the village, east of the karambwanji lake. Sixteen paces north and five paces east of the shortcut to Shilo Village. | |
| Northwest of the village, two steps west of the southern side of the potted plant north of the general store. | |
| East of the village, in the clearing east of the hardwood grove. Two paces south and four paces west of the creeping plant. | |
Kharidian Desert
North-western desert
| Possible locations | Image |
| --- | --- |
| North of the entrance to Heart of Gielinor, three paces east and two paces south of the bigger of the round cacti. | |
| Just northeast of the closest group of rocks north of Nardah. | |
| Southern Nardah, two steps north of the north-eastern corner of the clay oven. | |
| West of the fountain. | |
| Possible locations | Image |
| --- | --- |
| Just north of Sophanem, on the west side of a lake. | |
| Far north of Sophanem and east of the Jaldraocht Pyramid. Six paces south and eight paces west of the entrance to the summoning obelisk. | |
| East of the Agility Pyramid. | |
| North-east of Sophanem and west of the Agility Pyramid. Just south-east of the tent. | |
| West of the Agility Pyramid. | |
| West of Ullek. South of the Agility Pyramid and east of Sophanem. | |
| East of Sophanem, four steps north of the Kharidian cactus that is in the middle of the group of cacti, near the southern shore. | |
| In Ullek (east of Sophanem), west of the archaeologists. | |
| In Ullek, just east of the southern passage to the swamps. | |
South-western desert
| Possible locations | Image |
| --- | --- |
| In the centre of the quarry. | |
| South of the quarry. | |
| East of the Exiled Kalphite Hive entrance. | |
| North of the northeastern corner of Jaldraocht Pyramid, just south to a group of cacti. | |
| South-west of the Exiled Kalphite Hive entrance, by the vultures. One pace west of the location pictured. | |
| North-east of Jaldraocht Pyramid, seven steps south of the south-western corner of the third rock from the east in the group of four rocks. | |
| West of Jaldraocht Pyramid, one pace south and three paces east of the bigger of the round cacti. | |
| Possible locations | Image |
| --- | --- |
| North of the Ruins of Uzer, east of the Uzer mining site. | |
| Just east of Ruins of Uzer. | |
| South of the Ruins of Uzer, just south-west of the oasis. | |
| South of the Ruins of Uzer, east of the Uzer Mastaba. | |
| In Ruins of Uzer, in the centre of the north-eastern circular building's ruins. | |
Misthalin
| Possible locations | Image |
| --- | --- |
| North of the Exam Centre, one step north of the location in the picture. | |
| South-west of the Digsite. South-east of the bright wisp colony. | |
| In the centre of the Digsite. One pace north of the location pictured. | |
| At the south tip of the Digsite, north-west of the tent. | |
| East of the Digsite and west of the River Salve. | |
| North of the Digsite. East of the Lumber Yard and west of the beacon. | |
| Inside the Lumber Yard. | |
| North of the Broken Home manor. | |
| Behind Paterdomus at the bottom of the stairs. | |
| West of the Digsite. Five paces south and three paces west of Captain Errdo. | |
| Possible locations | Image |
| --- | --- |
| In the centre of the village. Five paces south and two paces west of Relomia, Emissary of Sliske. | |
| Just west of the Wizards' Tower. | |
| North-west of the Water Altar. | |
| North-east of the Wizards' Tower. | |
| South-east of Draynor Village and south-west of the Lumbridge crater. East of the pale wisp colony. | |
| South of Draynor Jail. | |
| North-east of Draynor Jail. | |
| In the north-eastern part of Draynor, in the south-east corner of the wheat field. | |
| West of Draynor Manor. | |
| In the north-east corner of Draynor Manor grounds. | |
| East of Draynor Manor. | |
| South east of the clay mining spot. | |
| South west of the clay mining spot. | |
Varrock
Morytania
| Possible locations | Image |
| --- | --- |
| On the ground floor of the Slayer Tower, just outside the chamber of banshees. | |
| On the ground floor of the Slayer Tower, just west of the entrance. | |
| North of Canifis, in the graveyard, four steps south of Mekritus A'hara's memorial statue. | |
| In the centre of Canifis, just south of the tanner. | |
| Just south-east of Canifis bank. | |
| South of Fenkenstrain's Castle. | |
| South of the old crone. | |
| North of Mushroom patch, west of Canifis. | |
| Possible locations | Image |
| --- | --- |
| On the western side of the swamp, south of the musician on the path leading to Mort'ton. | |
| Just west of Mort'ton, east of the fishing spot on the path leading into the area. | |
| In the north-western part of Mort'ton. | |
| In Mort'ton, just north of the bridge to Burgh de Rott. | |
| North-east of Burgh de Rott. | |
| North of the gate to Burgh de Rott. | |
| North-west of Barrows. One step north of the pictured location. | |
| North-east of the entrance to Barrows. | |
| Possible locations | Image |
| --- | --- |
| South-west of Port Phasmatys west gate. | |