A Glowing tree is a special tree that appeared with the release of the Tribute to Guthix event. It is a tree with a manifestation of the Anima Mundi in the form of a face on the bottom and has a green glowing aura. It serves no significant purpose rather than mourning the death of Guthix.
Locations
They can be found anywhere around RuneScape where regular trees are but some notable locations are: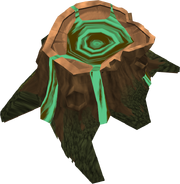 Trivia
All of the glowing trees replaced some of the regular trees.
Although the trees look different, the logs cut from them are just regular logs. 
There were a few glowing trees around the unreachable area around the the Player-owned port minigame however they did not have faces on the trunks.
The leaves of the trees appear to be dropping water drops or tears, which may suggest that the trees themselves are mourning.
Community content is available under
CC-BY-SA
unless otherwise noted.