Tree spirit
Release
2 February 2004 (Update)
Members
Yes
Examine
A very angry nymph.
Combat info
Level
LP
XP
XP
12
450
30.9
10.1
Equipment XP (2H/MH & Armour/OH)
1 / 1 / 0
Aggressive
Poisonous
Offensive
Max hit
36
0
0
? (edit)
Style
Speed

4 ticks (2.4s)

Combat levels
Defensive
Armour
Weakness
191
9
Affinities
90
55
45
65
Immunities
? (edit)
? (edit)
? (edit)
[FAQ] • [doc]
Tree spirits are a former Random event that can now only be found by chopping trees in the Enchanted Valley (Fairy Ring code BKQ), but these monsters are distinct from their former random event spirit tree counterparts. The Enchanted Valley versions are always level 12 combat, and have a fixed constitution level. They also have entirely different drops than their random event counterparts.
A Tree spirit could appear when any player initially attempted to chop logs from a tree. On appearance, it said, "Leave these woods and never return!" and proceeded to attack with melee. If the player it targeted ran away, it disappeared. They were always slightly higher in combat level than the player who provoked them, varying from 14 to 172, but killing one only gave 1/16th the normal experience, just like all other random event NPC monsters that could be slain using combat. It was apparently weak against fire based spells. It used to be seen quite often around the five willow trees in Draynor Village and the Yew trees west of Catherby, as those are very popular spots for medium to high level woodcutters to train. If a player ran away, it was possible for another player to attack and kill it before it disappeared. An issue with the spirit tree chathead was updated on 9 November 2009-15 November 2009.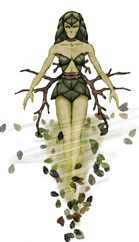 Used to drop
Community content is available under
CC-BY-SA
unless otherwise noted.