The Tribute to Guthix was an event lead by Taverlian druids to mourn Guthix's death after the Assassination of Guthix. For this event players could gather Guthixian butterflies. Every time a player caught 5, they were rewarded with a Guthixian Memory. Members also received experience in their lowest levelled skill without the need to train that particular skill (this occurred even if the member was logged onto an free-to-play world). Players could claim the Butterfly Outfit, the Sword of Edicts (override), and the Butterfly Dervish emote at any time during the event from Memstix. There was also a small side event where players could add 1 rune essence or pure essence to the Tribute stone by Runestax. This stone remained in game after the event had finished. As over 100,000 players added essence to the stone, it was transformed into a permanent prayer altar and a small summoning obelisk which also allows players to change back to Standard Prayers from the Ancient Curses.
The Guthixian butterflies along with the Guthixian memories have returned several times since then, last time being from the update on 26 May until the end of 12 April 2018. The tribute stone remains in place permanently. The cosmetic outfit and cosmetic override rewards are still available to be claimed from Memstix after the event.
Butterflies
The butterflies gave some experience in a players lowest skill. They were sighted in many locations all over the surface of Gielinor, including:
Glowing trees
Some trees, notably near the city entrances, dripped green fluid and had a face (looking very much like Guthix) manifested in them. Upon cutting, they gave normal logs. There was always a green whirlpool within the tree stump. It's been confirmed that the trees are "crying", being the Anima Mundi showing compassion to Guthix because he was connected close to it.
Rewards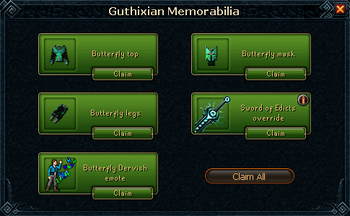 The event included several rewards, including a cosmetic clothing set, a cosmetic 2h weapon override, and an emote; as well as 15 Guthixian Memories.
Additionally, logging on while the event was active automatically unlocked the Bunny hop and Around the World in Eggty Days emotes.
Dialogue
Trivia

The original objective for the Tribute stone was 250,000 rune essence, however two weeks after the event started, there was still less than 80,000. On 25 March 2013 the objective was changed to 100,000 and the event itself was extended for another week.
Tribute to Guthix served as a replacement for the classical Easter event as Jagex wanted it to be more lore related experience.
NPCs
Rewards
Scenery
Related