Walkthrough
Start point

Speak to Ug at the Troll Stronghold.
Member requirement
Members only
Official difficulty
Experienced
Official length
Medium
Requirements
Skill requirements are not boostable unless marked with a [B] for boostable.

Quests:

Recommended:

Items required
Items from the tool belt are not listed unless they do not work or are not automatically added.
Recommended
Enemies to defeat
Hitch
Talk to Ug on the middle level of the Troll Stronghold. Offer him your help.
Talk to Aga in the room to the north.
Talk to Arrg in the same room.
Talk to Ug again.
Survival Techniques
Talk to Freda in the mountains west of Burthorpe.
Give him a rope, maple or yew logs, and an iron bar.
Use swamp tar on a wax bucket with a cake tin in your inventory.
Use your wax on the sled.
Sledding
Reach the north-west exit of Trollheim, leading to a snowy area.
Head north-west and enter the cave.
Head north-west and exit the cave through the crevasse.
Head south, equip your sled and slide through the slope.
After the end of the first part of the ride, pick the Trollweiss flowers west of your location.
Go back to Ug.
The Things We Do For Love...
Talk to Arrg and tell him you're here to kill him. The fight will start immediately after that. Arrg also attacks immediately after the teleport, so be prepared.
Kill Arrg
Return to Ug and talk to him.
Quest complete!
Rewards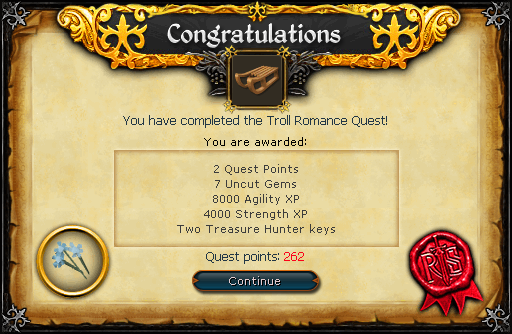 Music unlocked
NPCs
Items
Locations
Music
Miscellaneous
Quick guide • Transcript
Community content is available under
CC-BY-SA
unless otherwise noted.