Trollheim Teleport teleports the caster to the top of the Trollheim, just outside of Eadgar's Cave. Players must have completed the Eadgar's Ruse quest to use this spell.
Teleporting here allows players to reach the God Wars Dungeon and Troll Stronghold easily where there is a disease-free herb patch (usable only after completing My Arm's Big Adventure). After completion of Love Story you can deliver the Miner's diary to the Wise Old Man and he will teach you to modify Teleport to houses into Trollheim tablets which bring you to the same destination as this spell.
God Wars Dungeon Teleport was originally an optional location for this teleport after completing The Mighty Fall, before becoming a separate spell on 7 July 2014.
Cost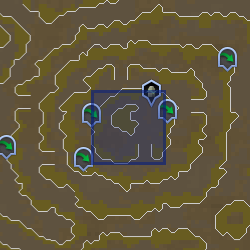 Input
Cost
22

1,458

Combo runes
22

3,072

22

3,162

22

3,138

Staves
2

1,140

2

1,140

2

1,140

21.8

1,344

2

1,140

2

1,140
Community content is available under
CC-BY-SA
unless otherwise noted.