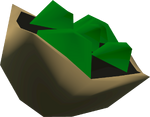 The ugthanki kebab is a kebab whose primary ingredient is the meat of an Ugthanki camel. The recipe for the Ugthanki kebab can be found on a Scrumpled paper occasionally dropped by Shantay when you "talk" to him.
Ugthanki kebabs are made in a specific order now by chopping an onion into a bowl creating chopped onion, adding a tomato into the bowl of chopped onion by picking 'kebab' in the dropdown menu, which makes onion & tomato, adding a piece of cooked ugthanki meat, and then using the resulting kebab mix with a baked pitta bread. Level 58 Cooking is required to make the pitta bread, but the rest may be made at level 1 Cooking.
Kebabs heal 25% of player's life points, up to 1750. They also cause your character to say "Yum!"
Making an ugthanki kebab from scratch in Nardah is one of the hard Desert achievements, Ug Thankee Kindly.
Drop sources
This list was created dynamically. For help, see the FAQ.
To force an update of this list, click here.
For an exhaustive list of all known sources for this item, see here.
Disassembly
Community content is available under
CC-BY-SA
unless otherwise noted.