Umbral chests are chests that can be opened to receive a guaranteed super-rare prize, destroying the chests. Two are given as rewards to members of Twitch Prime as part of an offer from 26 July to 19 September 2018.
When claiming the promotion, ironmen were not given the chests.
Potential loot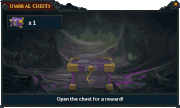 The chest can be right-clicked to see the following rewards.
| | Item | Quantity | Rarity | GE price |
| --- | --- | --- | --- | --- |
| | Lucky chaotic staff | 1 | Unknown | Not sold |
| | Coins | 200,000,000 | Unknown | 200,000,000 |
| | Bad weather umbrella | 1 | Unknown | Not sold |
| | Octopus backpack | 1 | Unknown | Not sold |
| | Glowbug in a jar | 1 | Unknown | Not sold |
| | Oriental fan | 1 | Unknown | Not sold |
| | Telescope (Treasure Hunter) | 1 | Unknown | Not sold |
| | Balloon rest token | 1 | Unknown | Not sold |
| | Polly | 1 | Unknown | Not sold |
| | Springy pet token | 1 | Unknown | Not sold |
| | Ban hammer | 1 | Unknown | Not sold |
| | Balancing wand | 1 | Unknown | Not sold |
| | Twang crossbow | 1 | Unknown | Not sold |
| | Lucky coin | 1 | Unknown | Not sold |
| | Map hat | 1 | Unknown | Not sold |
| | Potion hat | 1 | Unknown | Not sold |
| | Chic scarf | 1 | Unknown | Not sold |
| | Hype train | 1 | Unknown | Not sold |
| | Ocean's Archer Bow token | 1 | Unknown | 215,661 |
| | Ocean's Archer Head token | 1 | Unknown | 228,693 |
| | Ocean's Archer Body and Hands token | 1 | Unknown | 378,649 |
| | Ocean's Archer Legs and Feet token | 1 | Unknown | 300,098 |
| | Ocean's Archer Crossbow token | 1 | Unknown | 97,129 |
| | Purified swords token | 1 | Unknown | 801,483 |
| | Purified greatsword token | 1 | Unknown | 1,008,600 |
| | Purified shortbow token | 1 | Unknown | 973,497 |
| | Purified wand and orb token | 1 | Unknown | 1,017,954 |
| | Purified staff token | 1 | Unknown | 1,383,614 |
| | Purified halberd token | 1 | Unknown | 491,836 |
| | Purified crossbow token | 1 | Unknown | 852,838 |
| | Purified 2h crossbow token | 1 | Unknown | 611,705 |
| | Huge lamp chest (Twitch Prime) | 1 | Unknown | Not sold |
| | Protean hide | 1,000 | Unknown | Not sold |
| | Protean bar | 1,000 | Unknown | Not sold |
| | Protean trap | 1,000 | Unknown | Not sold |
| | Protean logs | 1,000 | Unknown | Not sold |
| | Protean memory | 1,000 | Unknown | Not sold |
| | Protean cog | 1,000 | Unknown | Not sold |
| | Protean plank | 1,000 | Unknown | Not sold |
| | Silverhawk feathers | 300 | Unknown | 6,430,500 |
| | Spring | 600 | Unknown | 2,930,400 |
| | Rare item tokens | 4,000 | Unknown | Not sold |
| | Lucky chaotic rapier | 1 | Unknown | Not sold |
| | Lucky off-hand chaotic rapier | 1 | Unknown | Not sold |
| | Lucky chaotic longsword | 1 | Unknown | Not sold |
| | Lucky off-hand chaotic longsword | 1 | Unknown | Not sold |
| | Lucky chaotic claw | 1 | Unknown | Not sold |
| | Lucky off-hand chaotic claw | 1 | Unknown | Not sold |
| | Lucky chaotic maul | 1 | Unknown | Not sold |
| | Lucky chaotic spear | 1 | Unknown | Not sold |
| | Lucky chaotic crossbow | 1 | Unknown | Not sold |
| | Lucky off-hand chaotic crossbow | 1 | Unknown | Not sold |
| | Lucky chaotic kiteshield | 1 | Unknown | Not sold |
| | Lucky eagle-eye kiteshield | 1 | Unknown | Not sold |
| | Lucky farseer kiteshield | 1 | Unknown | Not sold |
| | Lucky Armadyl chestplate | 1 | Unknown | Not sold |
| | Lucky Armadyl crossbow | 1 | Unknown | Not sold |
| | Lucky Armadyl helmet | 1 | Unknown | Not sold |
| | Lucky Armadyl chainskirt | 1 | Unknown | Not sold |
| | Lucky Armadyl godsword | 1 | Unknown | Not sold |
| | Lucky Bandos chestplate | 1 | Unknown | Not sold |
| | Lucky Bandos godsword | 1 | Unknown | Not sold |
| | Lucky Bandos helmet | 1 | Unknown | Not sold |
| | Lucky Bandos tassets | 1 | Unknown | Not sold |
| | Lucky Saradomin sword | 1 | Unknown | Not sold |
| | Lucky Saradomin godsword | 1 | Unknown | Not sold |
| | Lucky garb of subjugation | 1 | Unknown | Not sold |
| | Lucky gown of subjugation | 1 | Unknown | Not sold |
| | Lucky hood of subjugation | 1 | Unknown | Not sold |
| | Lucky Zamorakian spear | 1 | Unknown | Not sold |
| | Lucky Zamorak godsword | 1 | Unknown | Not sold |
| | Off-hand Lucky Armadyl crossbow | 1 | Unknown | Not sold |
| | Lucky Ahrim's hood | 1 | Unknown | Not sold |
| | Lucky Ahrim's robe top | 1 | Unknown | Not sold |
| | Lucky Ahrim's robe skirt | 1 | Unknown | Not sold |
| | Lucky Ahrim's staff | 1 | Unknown | Not sold |
| | Lucky Dharok's helm | 1 | Unknown | Not sold |
| | Lucky Dharok's platebody | 1 | Unknown | Not sold |
| | Lucky Dharok's platelegs | 1 | Unknown | Not sold |
| | Lucky Dharok's greataxe | 1 | Unknown | Not sold |
| | Lucky Guthan's helm | 1 | Unknown | Not sold |
| | Lucky Guthan's platebody | 1 | Unknown | Not sold |
| | Lucky Guthan's chainskirt | 1 | Unknown | Not sold |
| | Lucky Guthan's warspear | 1 | Unknown | Not sold |
| | Lucky Karil's coif | 1 | Unknown | Not sold |
| | Lucky Karil's top | 1 | Unknown | Not sold |
| | Lucky Karil's skirt | 1 | Unknown | Not sold |
| | Lucky Karil's crossbow | 1 | Unknown | Not sold |
| | Lucky Torag's helm | 1 | Unknown | Not sold |
| | Lucky Torag's platebody | 1 | Unknown | Not sold |
| | Lucky Torag's platelegs | 1 | Unknown | Not sold |
| | Lucky Torag's hammer | 1 | Unknown | Not sold |
| | Lucky Verac's helm | 1 | Unknown | Not sold |
| | Lucky Verac's brassard | 1 | Unknown | Not sold |
| | Lucky Verac's plateskirt | 1 | Unknown | Not sold |
| | Lucky Verac's flail | 1 | Unknown | Not sold |