This page is a list of upcoming RuneScape updates.
Combat
Combat fixes
Abyssal Slayer creatures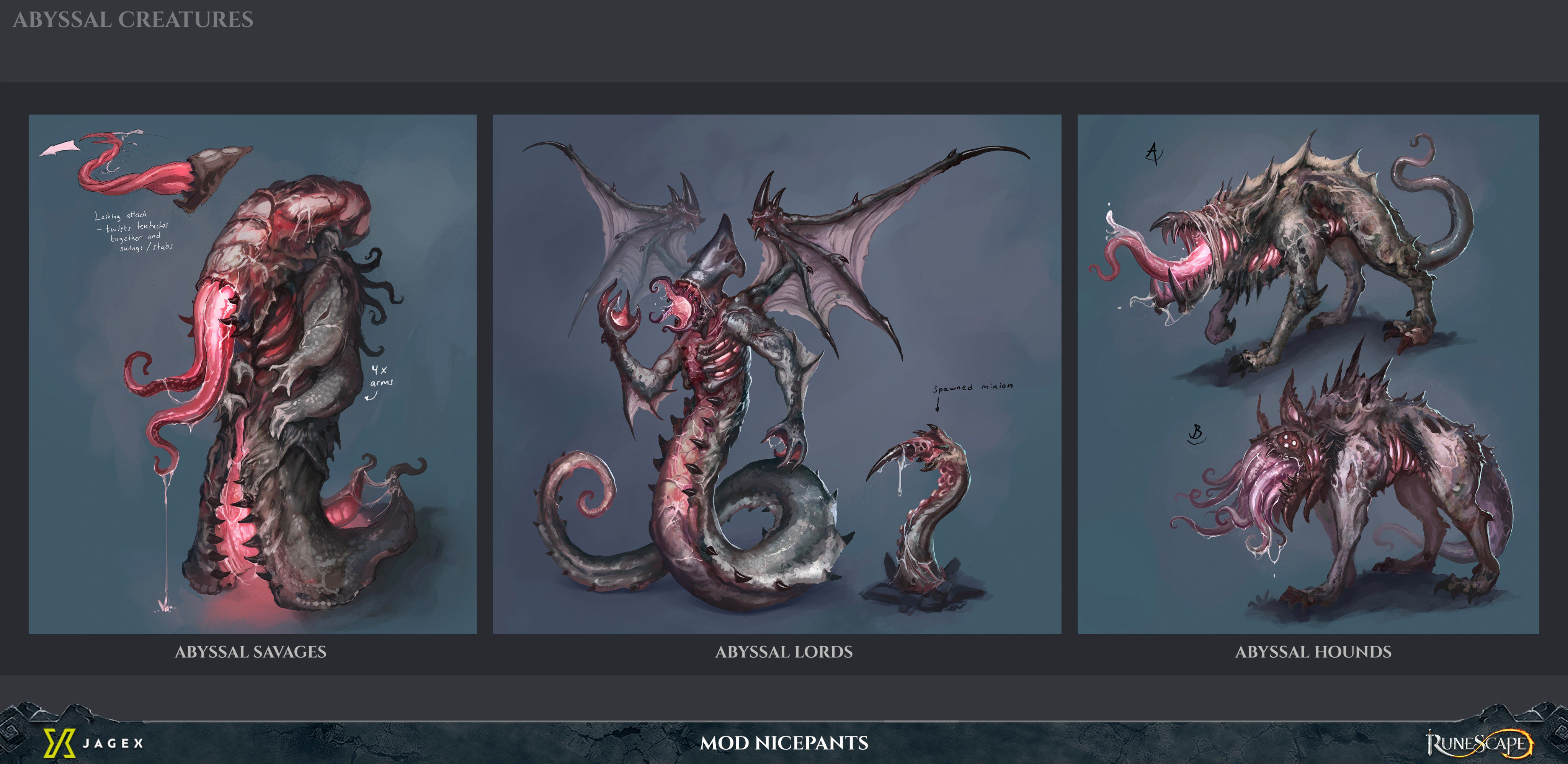 Mod Shogun designed 3 new Abyssal Slayer monsters during the Game Jam 2017. They are currently awaiting graphical work and some minor tweaks. They will be Chthonian demons from the Abyss:
Abyssal savage (requiring level 95 Slayer to kill)
Abyssal beast (requiring level 105 Slayer to kill)
Abyssal lord (requiring level 115 Slayer to kill)
All of these will be options that players will be able to choose in place of an abyssal demons task. The new monsters will each have the same teleporting mechanic as abyssal demons, with the abyssal lord also dealing damage to the player while doing so. As with regular abyssal demons, the effects of darklight and abyssalbane ammunition will work against the new monsters.
The abyssal savage will be a harder hitting version of an abyssal demon; though it will attack using magic. The abyssal savage will have a laser attack which the player must avoid by moving at least one step away from the savage. The abyssal lord will feature the most complex mechanics. Mod Shogun is aiming for them to have 2 special effects. One of these will be that, after the player has dealt a certain amount of damage to the abyssal lord, it can summon high-hitting minions which attack the player. Some of the minions' damage will be negated by Protect from Magic.[9]
Other
RuneScape Mobile
Mod Pi and several others are working on RuneScape Mobile - an upcoming version of RuneScape and Old School RuneScape announced on 17 July 2017. OSRS Mobile was originally planned for release in Winter 2017, but is currently planned to be released on 30 October 2018.[10] There is currently no planned release date for RuneScape Mobile yet.
Interface scaling
The interface will be made scalable as part of the upcoming Mobile client, and it will work also on the PC client.[11]
Group Ironman
Mod Ramen will work on Group Ironman Mode which will allow linked Ironman players to interact freely with each other and participate in group bosses and Dungeoneering, was announced at RuneFest 2017.[12] Features this may include are a group banking system, leaderboards, and a guild including Mr Ex and other ironman related content.[13] Group ironman is currently on hold since engine work is needed (group banking, other features) and the engine team is completely dedicated to RS Mobile.[14]
The first Developer Blog for the update was posted on 15 June and revealed the following plans for the mode:
Players will be able to form groups of 2-5 ironman players. Groups will be classified according to size, with each size having a different chat badge and Ironman Armour icon, and potentially different hiscores.
Leaving a group will result in a group ironman account being downgraded to a regular account.
If a player leaves a group then the group will be able to recruit a freshly created group ironman account only.[15]
Microtransactions
Live Events Team are currently working on updating Treasure Hunter with the following changes:
Re-balancing base reward table to provide more valuable items.
Rework hearts of ice to make them more beneficial.
Add life cycle system for new and existing Treasure Hunter items to be repeatedly available, and eventually freely available. The current plan is for Treasure Hunter exclusive items to become available through Solomon's General Store or time-limited events after 1 year; available through Thaler/a fragment system similar to elite skilling outfits another year later; and become freely available some time after that.[16][17]
Miscellaneous
The following fixes / tweaks are planned for future updates:
References
Game-related
Website-related
Miscellaneous
Upcoming updates