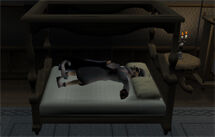 Christmas time has come round again and the Queen of Snow has invited guests to her realm for one of her legendary Christmas feasts, and perhaps a snowball fight or two. Hop into one of the Christmas cupboards in Varrock, Falador or Draynor to join in the festivities along with Santa Claus, Jack Frost, and an entourage of guests from across RuneScape.
Hard as it may be to believe, not everyone in the Land of Snow is full of Christmas cheer. The Queen of Snow's neighbour, Ebenezer Scourge, isn't known for his goodwill or for his love of a good party, but that's nothing to worry about. Nothing's going to go wrong. I'm quite sure that this year we'll have a quiet Christmas. I'm almost certain that there'll be no kidnapping, ghosts of Christmas past, magical curses or vigilante snow imps.
Adventurers with the impish cunning to see this one through will be richly rewarded with a dramatic new emote, a fiendish costume, and not to mention a tasty-looking and festive wieldable item.
Merry Christmas from all of the RuneScape team!
Mod Edam
RuneScape Content Developer
Summary:
Where to start A Christmas Warble:
Enter one of the magic wardrobes in Varrock, Falador or Draynor Village.

Requirements to complete A Christmas Warble:
None.

In other news...
We've enabled a new graphical feature called 'particles' in the game engine. You'll most likely notice our first use of particles during the Christmas event. Use of particles can be set to high, medium or low in the Graphics Options menu. Players with older versions of Java might not be able to experience the effects to their full potential. If this is the case, you may not be able see the snow particles or change this detail setting.